Best Apartment Doorbells For Renters You Can Buy Today
Living in an apartment can create feelings of insecurity, making it crucial for renters to prioritize safety measures to feel secure beyond their front door. Wireless doorbells for apartments come in various types, and the quality depends on the camera type and app accessibility from any location.
It's vital for renters to take responsibility for their safety and security, as no one is around to watch over them in the apartment building. Particularly for those with busy lifestyles, such as work or school obligations, it's challenging not to worry about potential intruders while alone at home.
Fortunately, there are ways to enhance security, and this article aims to assist renters in finding the best wireless doorbell for their apartment. With the right equipment, you can feel more comfortable and secure when outside your door, even in a bustling apartment complex.
READ ALSO: Why is my eufy Doorbell Offline
Video doorbells are the latest smart security obsession that I've developed. The use of doorbell cameras is extremely popular, and for good reason. This device serves a functional purpose, such as keeping an eye on your front yard and even acting as an intercom, allowing you to communicate with anyone who comes to your door. Unfortunately, renters and apartment dwellers have not been able to take full advantage of these smart doorbell cameras, which are becoming increasingly popular among homeowners.
As soon as I realized how inconvenient doorbell cameras can be for people who live in rental apartments, I set out to test and review the best video doorbells for people who can't do a standard installation by replacing the existing doorbell system, as is typically the case with HomeKit Enabled Doorbells.
I found that the best video doorbells for people who live in rental apartments were the following:
Motion detection, ease of installation, battery life, technical support, and video quality were all factors I took into consideration before making my final decisions.
For those in a hurry, my top recommendation for the best video doorbell for rental apartments is the Ring Peephole Camera, which is distinguished by its compact design and ease of installation. It does not necessitate any significant modifications and can be easily removed without affecting the original setup.
The best doorbell camera for apartment and renter dwellers was tested for a total of 36 hours, which included both indoor and outdoor testing. This list was decided after taking into consideration factors such as ease of installation, the need for drilling, compactness, and the ability to be powered by a battery.
Wireless Battery-Powered Video Doorbells To Install For Renters and Apartments Without Drilling
Mostly if you live in an apartment and don't want any wiring, a wireless battery-powered video doorbell may be the best selection for you. In this situation, you have to attach the doorbell to your door frame or wall and you're good to go!
Renter Friendly Apartment Doorbells
Ring Peephole Camera: Battery-Powered No Drilling Solution [Our Pick]
The Ring Peephole Camera is exactly what it sounds like: a peephole camera with a ring. You slide this in through your peephole after removing it. Ring deserves praise for making the installation process as simple as possible. Ring's Tech Support was also excellent, and they assisted me with the installation. This smart doorbell was designed for apartment dwellers who are unable to modify their existing doorbell or drill holes in their walls to install a new one. All that is required to install it is the removal of your door's peephole and the installation of the Ring Peephole Cam.
Ring's Peephole Cam is very similar in appearance to a ring doorbell, except it is smaller. I was initially concerned that people would miss the doorbell because of its unusual placement on the door. However, this was quickly dispelled. In my testing, however, all of the visitors were able to notice the peephole camera and ring it when it was activated.
The battery life on the Ring Peephole Cam was excellent, and I was able to use it for approximately 3 months before it alerted me that the battery was running low. To ensure that you do not experience any downtime, it is simple to purchase an extra battery for peace of mind.
Ring Peephole Camera is equipped with two-way audio, which allows you to converse with your visitors without ever leaving your couch, just like traditional video doorbells. Be prepared for the visitor to be startled by the camera, however, because it is not immediately obvious where the sound is coming from when the camera is turned on.
---
If you live in a rented apartment, it is likely that you will receive knocks on your door from strangers. The Ring Peephole camera has the capability of detecting any knocks on the door and automatically turning on and beginning to record. If you have children at home and you want to know who is coming to the door, this feature may be extremely useful.
Peephole Camera with a Ring– best doorbell camera for apartment

Not only is the Ring Peephole Camera one of the smallest and most inconspicuous video doorbells I've ever seen, but it also seamlessly integrates into any door's aesthetic design. The no-drill installation procedure allows you to get it mounted without leaving a mark on your apartment door, allowing you to maintain your good standing with your landlord and avoid being evicted. It has a long battery life of three months, and its revolutionary Knock-detection feature ensures that you are always aware of when you have a visitor in your home or business.
Ring Video Doorbell 3: To Wire Or To Not Wire
The Ring Video Doorbell 3 is a smart doorbell that is both wireless and battery-powered. The Ring Video Doorbell 3 promises improved motion detection and Wi-Fi connectivity over its predecessor, and it is available in two models: the Ring Video Doorbell 3 and the Ring Video Doorbell 3 Plus.
The Ring Video Doorbell 3 is a substantial 128 x 62 x 28 mm in size, which may appear to the user to be a little bulky and thick. However, this is not a cause for concern when it comes to installation. Ring includes two wedges with the doorbell to aid in the installation process. It can be mounted on a door just as easily as it can be mounted on a wall, and it can be done so with a corner mount and a mount that angles the doorbell slightly downward. There are two faceplates to choose from, one in Satin Nickel and the other in Venetian Bronze, so you can match your door's finish perfectly.
The device's bulky appearance is also a result of the amount of space available for its battery inside. Alternatively, if you already have a wired doorbell, you can connect the device to your existing wired doorbell and charge the removable battery that way. To avoid downtime, Ring also offers the option to purchase additional batteries that can be plugged in while the first one is charging. I have best doorbell camera for apartment a tendency to check the video feed several times throughout the day, which has reduced the battery life from the advertised 6 months to only a few months in my experience.
Regarding features, Ring has retained its two-way communication capabilities, as well as its Live View and noise cancellation capabilities. Ring 3 also manages to stand out from the crowd by offering a $50 add-on called Chime Pro. Ring Chime Pro not only provides a ring notification inside the house in addition to the usual app alerts, but it also serves as a Wi-Fi range extender for all Ring devices, which is particularly useful for large households. It does, in fact, improve the overall user experience, and it is well worth the investment.
In its earlier versions of video doorbells, the most common criticism that Ring received was that the user received an excessive number of alerts for insignificant motion detection events. Using Ring 3, Ring has made improvements to its motion detection capabilities, including the addition of new and customizable options such as 'People Only', "Near Zone," and "Corner Privacy Zone."
---
There hasn't been much of a difference in video quality when comparing the new models to their predecessors. Although the camera only has a field of view of 160 degrees, it captures crisp 1080p videos in high definition. It has four infrared LEDs that display black-and-white videos in the dark to aid in night vision.
Both the Video Doorbell 3 and the Video Doorbell 3 Plus, like all other Ring devices, are subject to the company's Protect Plans. The user must choose between the Basic plan, which costs $3 per month, and the Plus plan, which costs $10 per month. Subscriptions are also available on a yearly basis. In spite of the fact that subscriptions to plans are not a requirement, the device is almost completely redundant on its own. In order to be able to view previously recorded videos, a subscription would also be required.
One feature that is particularly appealing about the doorbell is its compatibility with Alexa voice commands, which allows you to watch recorded videos on Amazon devices. Despite this, the device does not support the Google Assistant or Apple HomeKit, which are both popular voice assistants. Despite the fact that the device does not have cloud storage, Ring explicitly states that all videos are stored in the cloud for up to 30 days and can be downloaded at any time by using the Ring app.
The Pre-roll recording technology included with the Ring Video Doorbell 3 Plus is the most recent addition to the product line. Ring 3 Plus, in contrast to Video Doorbell 3, has the ability to capture and record four seconds of video before the motion is even detected by the camera's lens. On the downside, the Pre-roll only captures videos in black and white, does not work at night, and does not record audio, which are all disadvantages. Nonetheless, it is a noteworthy feature that contributes to the device's overall sense of security by increasing the sense of protection it provides.
Read Also: How to Hide CCTV wires
Eufy Video Doorbell: The Subscription Free Doorbell
The sleek and shiny Eufy Video Doorbell measures 122 x 43 x 23 mm in size and is powered by a rechargeable battery. The Eufy Video Doorbell, which is available in black, has an LED ring that changes colour depending on the activity that is taking place.
The Wi-Fi-enabled wireless smart video doorbell must be purchased in conjunction with Eufy's Homebase in order to function properly. The Homebase is connected to your router and serves as a Wi-Fi extender, allowing you to improve the signal and connectivity of your cameras. It also has a 16 GB internal memory that stores all of your recorded videos. If you already own a Homebase, you can purchase a wireless doorbell as a stand-alone device. The doorbell is virtually ineffective if it is not connected to the Homebase. Tech Support was extremely helpful and answered all of my questions about how to set up the doorbell in my home.
best doorbell camera for apartment
When it comes to image quality, Eufy offers stunning 2K (2,560 x 1,920) videos. The high dynamic range (HDR) feature captures crisp shadow and highlight details. The camera has a field of view of 160 degrees and is equipped with 12 infrared LEDs, which allow it to operate in the dark. Instead of face recognition, which is present in its competitor Nest Hello's video doorbells, Eufy's video doorbells feature notable motion sensor attributes such as smart human detection and activity zones.
In terms of other features, the device allows for two-way audio communication as well as Live View through the Eufy phone application. The pre-roll technology offered by Eufy is similar to that offered by Ring 3, in that the video begins recording seconds before motion is detected. The fact that it is compatible with Amazon Alexa and Google Assistant voice commands, as well as the ability to view recorded videos on compatible devices, was a pleasant surprise.
Nonetheless, the most appealing feature of Eufy's Video Doorbell is that it is a subscription-free doorbell system. It is not necessary to sign up for a payment plan in order to watch recorded videos, use the basic features, or simply use the device for its intended purpose; no such requirement exists. Unlike other video doorbells, Eufy's smart doorbell can be purchased as a one-time purchase, and there are no hidden or overhead costs to worry about with this product.
Having said that, Eufy does provide a rolling subscription plan to assist with additional storage beyond the default amount provided by the Homebase service. Depending on his or her needs, a user can choose between two plans: A Basic plan for $3 a month or $30 a year, which provides 30 days of cloud storage for one camera; or a Premier plan for $10 a month or $100 a year, which provides 30 days of cloud storage for up to ten cameras, which is available for purchase separately.
In comparison to Eufy's wired doorbell, the wireless doorbell is relatively simple to set up. There are two parts to the installation process. The Homebase must be connected to your router through a separate connection inside your home. By utilising the mounting bracket, wedge, and screws included in the box, you can mount the doorbell itself near or on your front door without any additional hardware. If you already have a traditional doorbell installed, you can remove it and install the video doorbell on the same surface as the traditional one.
The video doorbell can be controlled via the Eufy Security app, which is available on both the Apple Store (iOS) and the Google Play Store (Android) (Android). Before you physically install the app, make sure you have configured your device in the app. Unfortunately, installing a wired video doorbell is more difficult than it appears, and if you are not confident with the wiring processes, it is best to consult with a professional.
The charging process for the wired doorbell, on the other hand, is a significant drawback. However, even though it only requires a simple micro-USB port for charging, the entire doorbell must be removed in order for the battery to be recharged. The charging process takes approximately 6 hours to complete. After being fully charged, the battery is said to have a lifespan of up to six months.
It is one of the best smart devices for your home to have a wireless video doorbell like the Eufy. In particular, if you live in a rented apartment and want to avoid the disruption and risks associated with moving or installing devices while also ensuring enhanced safety and a sense of security, Eufy is an economical, effective, and efficient tech device to have in your possession.
What Type of Video Doorbell is Perfect For Renters or Apartment Residents
As a tenant or renter, you would prefer that your smart home devices operate with the least amount of fuss. Aside from the low cost and ease of installation, ensuring that certain aspects are met can make the process of purchasing best doorbell camera for apartment a smart video doorbell go more smoothly.
What should you consider when choosing the type of video doorbell that will best suit a renter or a tenant who is renting an apartment, however, is the following:
There will be no drilling.
Let's just agree that drilling is the most upsetting to tenants. Obtaining permission from the landlord is a time-consuming process in and of itself, let alone drilling a hole in the wall to install a doorbell. Even if the landlord gives permission, drilling poses a risk of causing damage to the property. This can be avoided by selecting a video doorbell that requires only minimal drilling.
Read Also: How to connect bunker hill security camera to internet
There is no existing doorbell.
If you already have a traditional doorbell, the video doorbell may not be as effective as you would like. Despite the fact that certain smart doorbells can be connected to the same socket as an existing chime, the process is complicated and potentially dangerous. Choosing a video doorbell that can be installed with or without an existing doorbell, such as a Ring Video Doorbell or SimpliSafe Doorbell, is the best option to avoid confusion.
Battery Operated
Wireless video doorbells are among the most straightforward smart devices to set up. It is possible to complete the task with the help of DIY manuals or simple online videos. It also saves you the time and effort of messing around with wires and sockets. Furthermore, video doorbells that are powered by batteries can be recharged with relative ease.
5 Best Wireless Doorbells For Apartments 2023: Renter Friendly Video Doorbells for Apartments
When you're living in an apartments buildings, it's very important a wireless doorbell that is very easy to install and doesn't require any wiring. That's why i write here together a list of the 5 best wireless doorbells for apartment buildings.
1. Eufy Video Doorbell Camera for Apartments: Battery-powered with No monthly fees
The Eufy Video Doorbell Camera is an excellent choice for those seeking a battery-powered, local storage video doorbell. With a 2K resolution, wide dynamic range, and clear details, this 122 x 43 x 23 mm device is straightforward to install and chime.
This video doorbell camera offers 1920 x 1080 HD resolution for optimal clarity of visitors at your doorstep. It also boasts a built-in motion detector that sends instant alerts to your phone when triggered, so you'll never miss a visitor again.
With WiFi connectivity, the Eufy Video Doorbell Camera for Apartments enables two-way audio communication and prerecorded messages. Plus, it's powered by a rechargeable battery, so there's no need to worry about monthly fees.
This video doorbell camera is ideal for apartment renters as it doesn't require a monthly fee and has an LED ring that lights up in different colors based on activity. It's also Wi-Fi enabled but must be paired with Eufy's Homebase.
Additional features of this camera include a 160-degree field of view, night vision capabilities, smart human detection, and activity zones. Overall, the Eufy Video Doorbell Camera is an excellent choice for renters seeking reliable and straightforward doorbell security.
Features and Description
A Crystal-Clear 2K Image: High Definition 2560 x 1920 resolution, combined with our advanced HDR , ensures video is recorded high quality.
No Hidden Costs: Designed to protect your home as well as your wallet, eufy Security products are one-time purchases that combine security with convenience.
Respond in Real-Time: Speak directly to anyone who approaches your front door via two-way audio. Tell your friends to come round the back or that you have just run out to get some milk.
The Alerts Which Matter: With AI technology and our sophisticated algorithm, the camera intelligently detects body shape and face pattern. Ensuring you are only alerted* when a human, and not a stray cat, is at the door.
Electronic Chime Included: Supports 8 fun and holiday-themed ringtones and adjustable volume level.
Note: Products with electrical plugs are designed for use in the US. Outlets and voltage differ internationally and this product may require an adapter or converter for use in your destination. Please check compatibility before purchasing.
eufy Security Video Doorbell
From eufy, the home security brand where privacy comes first.
• Comprehensive Safety Solutions for Your Home
• Created by the same team as Anker—renowned for exceptional quality and innovation
Protects You, Your Family, and Your Privacy
Every eufy Security product is engineered to ensure your security data is kept private. Have peace of mind that you will have a secure record of everything that happens around your home.
See who's there before the ring
Get instant alerts* for anyone who approaches, even if they don't press the doorbell. Interact with visitors by talking in real time or via pre-set responses.
"Hey Google, show me my front door"
Connect your Doorbell to Google Assistant or Alexa and check in anytime on what's happening outside your home.
Interaction Made Easy
Record and set up to 3 instant responses. When you are notified of activity, simply select one of your pre-recorded responses for a simple way to interact and give instructions.
Note:
The video doorbell is powered by the original doorbell wires. Users need to modify their original chime per instruction or upgrade the doorbell transformer if the original doesn't deliver sufficient power. Users may need to hire an electrician at their own cost if they are not comfortable with the installation process.
Wi-Fi only connects to 2.4GHz networks.
What's included: doorbell cameras for apartments
Video Doorbell 2K (Wired), Screw Hole Positioning-Card, Mounting Bracket, 15° Wedge, Jumper for Existing Chime, Extension Wires, Screw Packs, Doorbell Detaching Pin, Electronic Doorbell Chime, Doorbell Power Pin, Quick Start Guide
*Push notifications with thumbnail previews require thumbnail preview images to be temporarily stored in the cloud.
**If you choose to use cloud-based features such as cloud storage or push notifications with thumbnail previews, videos or thumbnail previews will be sent to the cloud as needed to provide your selected features.
If you're a renter seeking a video doorbell without the burden of monthly fees, the Eufy Video Doorbell Camera is an excellent choice. Since the camera operates on batteries, there are no wires to contend with, and the Homebase amplifies the camera's signal and connectivity, ensuring that you can identify who is at your door at all times, even from a distance.
2. Ring Peephole Camera: Battery-Powered and requires No Drilling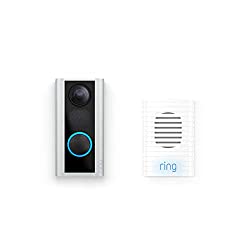 Ring Doorbell for Apartments-Best Doorbell Camera for Flat
Ring is a highly reputable company known for producing excellent quality products and providing top-notch customer service. The Ring Peephole Camera is no exception. This battery-powered video doorbell is an ideal option for renters who cannot drill into their walls. The camera's two-way audio function allows you to communicate with visitors from the comfort of your couch, making it an extremely convenient feature.
Additionally, the Ring Peephole Camera has a knock-detection feature that alerts you to visitors before they even knock on your door. It is also one of the smallest video doorbells available, with a battery life of three months. When the battery runs low, the camera notifies you, so you can replace it before it dies.
During my test, I found the Ring Peephole Camera to be the best option for detecting knocks on the door and turning on to record. This camera is an excellent choice for apartment renters who want to install a video doorbell without drilling into their door or dealing with wires. It is also discreet and inconspicuous, making it a good choice for those who prefer not to draw attention to their front door.
Here is how to instal the Ring Peehole Doorbell camera:
3. Arlo Essential Video Doorbell– Wireless Doorbell for Apartment Building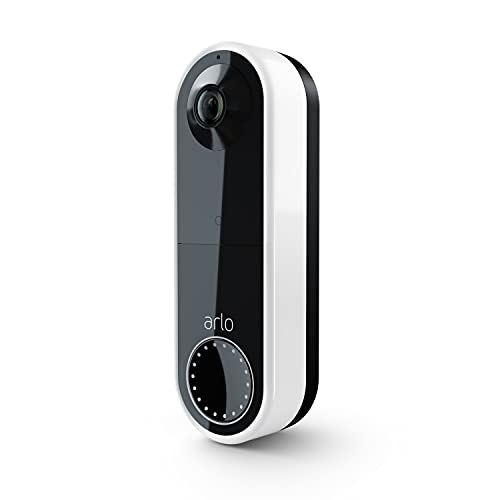 For those seeking an affordable video doorbell, the Arlo Essential Video Doorbell is an excellent option. It allows you to identify visitors at your door without opening it and has a maximum video resolution of 1536×1536, a 1:1 aspect ratio, and a 180-degree field of view, providing optimal visibility.
Syncing with your smartphone, the Arlo Essential Video Doorbell allows you to answer your door from anywhere, with its two-way audio feature enabling communication with visitors. Additionally, pre-recorded messages can be used if you are unavailable. For added security, a built-in siren is included to scare off intruders.
At just $2.99 per month, the Arlo Essential Video Doorbell's subscription fee provides access to video recordings, making it an excellent option for budget-conscious individuals looking to monitor their home or business.
The Arlo Essential Wireless Video Doorbell has a number of great features such as package detection, but are only available via subscription.
Pros
+Easy to install
+Person, package, animal, and vehicle detection
+Battery/wired installation
+Good field of view
+Removable battery
Cons
–Many features require subscription
–Video not as sharp as competition
The Arlo Essential Wireless Video Doorbell was released on October 1, 2021, and is priced at $199, with wide availability at online retailers. However, if you don't require a wireless option, the Arlo Essential Wired Doorbell is $50 cheaper. Despite being smaller and thinner, the wired model lacks a battery and has an extended motion-detection range of 5 meters, compared to the wireless model's 3 meters.
Arlo Essential Wireless Video Doorbell review: Design
The Arlo Essential is unobtrusive and uncluttered, and it has the typical rectangular shape and rounded top and bottom of video doorbells. At the top is a lens, and at the bottom is a circle-shaped button. The sides are white, but the faceplace is black.
The Arlo's battery is detachable, similar to the Ring Video Doorbell 4's, so you don't have to remove the complete video doorbell from the wall to recharge it. Unlike the Nest Doorbell (Battery) and Ring Video Doorbell (2nd gen), which have built-in batteries, you must remove the complete item from the wall to recharge them. I prefer Arlo's approach because there is no downtime and a spare battery can be purchased.
Comparatively, the Ring Video Doorbell 4 requires the removal of a small cover, whereas the Arlo necessitates the removal of the entire doorbell to access the battery. The Arlo's bulkier design is due to its removable battery, which protrudes over an inch and a half, while the Nest Doorbell is thinner, measuring less than an inch in thickness, although it is wider and taller.
4. Ring Video Doorbell 3: Battery-powered video doorbell for Apartments
The Ring Video Doorbell 3 is a smart and wireless doorbell available in two versions: Ring Video Doorbell 3 and Ring Video Doorbell 3 Plus. It has a compact size of 128 x 62 x 28 mm, making it an ideal option for apartments.
This battery-powered video doorbell is simple to install and includes two faceplates to match your door color. The removable battery can be charged using a USB cable or wired in if you already have wired doorbells. You can also purchase additional batteries to ensure you never miss a visitor.
One of its significant features is its extended battery life. The Chime Pro add-on, which costs $50, alerts residents inside the house when someone rings the doorbell.
Users can customize the motion detection settings to receive alerts only when necessary. Although it lacks the Live View feature, the video quality is still impressive. Night vision is equipped with four infrared LEDs that capture black-and-white videos.
Ring Video Doorbell 3 is compatible with Alexa voice commands, allowing you to watch recorded videos on Amazon devices. However, it does not support Google Assistant or Apple HomeKit. Ring explicitly states that all videos are stored in the cloud for up to 30 days and can be downloaded at any time.
Overall, the Ring Video Doorbell 3 is an excellent wireless smart doorbell that captures high-quality sound and video.
Here is video how to install the ring doorbell 3 in your apartments:
RING OFFICIAL WEBSITE: RING.COM
5. X-Sense Wireless Doorbell Kit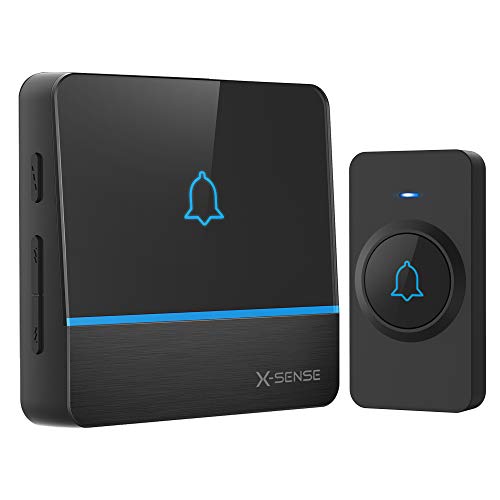 For those seeking a high-quality wireless doorbell without a camera, the X-Sense Wireless Doorbell Kit is an excellent option. This doorbell boasts an impressive range of 2,000 feet and includes a receiver that plugs directly into an outlet.
You can select from 56 distinct chime tones and adjust the volume to one of five different levels. The X-Sense Wireless Doorbell Kit is an ideal choice for renters who desire a video doorbell.
When someone approaches the door, the blue LED light illuminates to signal that they can press the button to begin recording. Additionally, the memory function ensures that your settings are retained in the event of a power outage.
Apartment dwellers will appreciate the X-Sense Wireless Doorbell Kit's five volume levels, with a maximum volume of 115 db. Furthermore, the doorbell chime has 56 chime sounds to choose from, producing a clear and rich sound.
Furthermore, the easy setup allows you to mount the wireless ring doorbell transmitter in a matter of minutes, and you won't have to reset your preferences after a power outage. The innovative memory function even remembers your most recent melody and volume level, eliminating the need to worry about losing your desired settings.
What are the benefits of having a wireless doorbell in your apartment building?
Having a wireless doorbell in your apartment complex has several advantages. Security is maybe the most obvious advantage.
In places like flats and schools, where you don't have to go to the door to answer it, a video intercom can be extremely helpful because it allows you to see who is at your door before providing entry.
The fact that video intercoms are more practical than older types is another significant benefit. A lot of the more recent versions support the use of facial recognition or motion sensors, and some even let users watch live video through an app on a smartphone or tablet.
This implies that regardless of where you are, you can keep tabs on who enters and exits your property.
Furthermore useful for residents are remote capabilities. Whether you're at home or not, you can ring in delivery people with a few quick phone touches.
This saves them the time and money it would take to get out of their car and walk to the front desk. It also keeps them from getting trapped on ice during poor weather.
Things to Know Before Installing a Video Doorbell Camera in Your Apartment
You should be aware of a few things before setting up a video doorbell camera in your residence.
First, make sure to confirm that installing the device is permitted with your management or landlord. Then, think about your neighbours' privacy and whether they would be okay with you being able to see inside their houses.
Furthermore, keep in mind that the Ring Video Doorbell's rechargeable battery will eventually need to be changed.
Get Consent from the Landlord
Due to possible privacy concerns, some landlords could be reluctant to permit this kind of installation.
Others may simply wish to confirm that the tenant is responsible for any damage caused by the installation. Future misunderstandings or confrontations will be less likely if this is done.
Get Consent from the Neighbors
Many individuals find the concept of being constantly watched unsettling, and they might not want a camera pointing directly at their homes. Be mindful of any privacy concerns your neighbours may have, and do your best to abide by their requests.
Keep in mind that respecting people's privacy is crucial, and putting a camera without their consent can easily cause stress and disagreement.
Does it require Wiring?
Video doorbells need a power supply to work, so you should check ahead of time to determine if your home has the necessary wiring. Although most video doorbells come with an adaptor to connect them into an outlet, others do not, so it is crucial to double-check before buying.
Costs of Installation and Moving
You might be able to install the video doorbell camera yourself if you're handy and have some familiarity with wiring and home security systems.
It is preferable to engage a professional if you are uncomfortable performing this kind of work or lack confidence in your skills. Depending on who performs the service, installation will cost anywhere between $75 and $150.
As most video doorbell cameras are portable, removing them is typically not too difficult. But, you could have to pay for repairs or replacements if the equipment or its wiring sustain any damage during the journey.
How to choose the best video doorbell for your apartment?
To select the most suitable video doorbell for your apartment, several factors should be considered. Firstly, your budget is crucial to determine as you wouldn't want to overspend on a new system.
After determining your budget, identify the features that matter most to you. Are you interested in an intercom system? Do you prefer an easy-to-install model? Is night vision necessary?
Once you have answers to these questions, choosing the right video doorbell for your building becomes easier. Remember that many models work with internet services, so if you have any doubts about compatibility or installation, contact the manufacturer before purchasing.
Additionally, it's essential to read reviews before buying any electronics product, particularly video doorbells, which may require technical knowledge for setup and usage. By reading customer reviews, you can learn about any potential issues others have had and determine whether the product is worth its cost.
How To Install A Video Doorbell In Your Apartment
Installing a video doorbell in your apartment is an effortless way to keep an eye on who is entering and exiting, and the process is simpler than you might assume. This guide will outline the three basic steps you need to take to install a video doorbell in your home.
To begin with, ensure that the video doorbell you plan to buy comes with all the necessary hardware and accessories. Most video doorbells include batteries, screws, and anchors for easy installation.
Secondly, decide where you want to place your video doorbell. Typically, people prefer to mount their doorbells near the front entrance of their homes. Consider the width of your doorway while selecting the placement for your device.
Thirdly, follow the instructions that come with your video doorbell to finish the installation process. You may need to drill holes to mount your device or run wires from your front entrance to the camera's location. However, most video doorbells now come with no-drill mounts and wireless capabilities, so check before purchasing.
After installing, test your new device by ringing it yourself or having a friend ring it from outside.
What You Should Know Before Putting in a Video Doorbell in Your Condo or Apartment
Purchasing and installing a video doorbell in a rented apartment can be difficult due to the fact that one does not have the authority to make major decisions due to lack of ownership rights. The following are the things that you absolutely must double-check and confirm before installing a video doorbell in your apartment, keeping the foregoing in mind.
Consent from the Landlord – wireless doorbell camera for apartment
Many apartment buildings do not allow for the customization of a group of identical apartments. Be sure to obtain the necessary permissions from your landlord or anyone else who may be in charge before making the investment. best doorbell camera for renters Also, if the video doorbell requires drilling holes in the wall in order to be mounted, make certain that your landlord is on board with the installation.
Consent from the Neighbor(s)
With video doorbells covering the frontal view of your apartment, there is a good chance that your neighbor's property will be captured in the frame of the video doorbell. It is morally and ethically important to ensure that they do not object to even accidental recording of themselves or their activities before proceeding. (Not to mention that it will keep you out of any future controversies!)
Inconvenient Wiring
best doorbell camera for renters
If the video doorbell of your choice is not a wireless model, make sure to research the device's wiring requirements before purchasing it. A large number of doorbells must be wired into the property in order to provide power. The procedure of connecting all the wires may be deemed excessive by the landlord, or it may be inconvenient for you to set up if the procedure is time-consuming.
Costs of Moving
While some doorbells are simple to install, others may necessitate the hiring of a professional in order to ensure a flawless installation. A lot of money can be spent in this manner. In the event that you move, you may find that it is more convenient to leave the doorbell than to spend the time and money to unhinge and rehinge it at a new location. best doorbell camera for apartment
Should You Install a Video Doorbell as a Rental Apartment Property Owner or Manager?
When you are purchasing devices for a house that you intend to rent out, it can be a confusing process. Should you really spend your money on a video doorbell when there are so many other options for upgrades available? The following points may be of assistance to you in making your decision.
Enhancing Safety and Security
The most obvious benefit of installing a video doorbell is the assurance of the property's safety. For renters, the device can be of assistance in a couple of different ways.
First and foremost, if your property has not yet been rented, the video doorbell can be used to keep an eye on the vacant property on your behalf. There is no doubt that it will save you the money and time associated with travelling to and from the property just to make sure everything is in working order.
First and foremost, once your property has been rented out, you may wish to use the video doorbell to assist you in acting as a virtual guardian to the tenants. This is especially useful in the case of tenants who are young, students, elderly, newcomers to the city, or your relatives or close friends who may require your assistance while they are adjusting to their new surroundings. best doorbell camera for apartment
A Cool upgrade
The installation of a video doorbell is an excellent modern and chic upgrade for any rental property currently undergoing renovations or construction.
Millennials and students make up a significant portion of any renter's customer base, and the majority of them prefer rental properties that are technologically advanced. The installation of a video doorbell will automatically increase the appeal of your property to prospective tenants. It's possible that it's the most distinguishing feature of your establishment.
A video doorbell is also an attractive feature for renters because it is fashionable and can command a higher rental rate because it is in high demand. As a result, an increasing number of tenants would be willing to pay more for gadgets that improve their safety and security.
Easy to Install
Installing a Video Doorbell is a simple and quick task that can be completed by yourself. Instruction manuals for all video doorbells are provided in a variety of languages. If you find the manuals difficult to understand, you can also watch videos of the installation process on the internet.
There are a variety of video doorbells that can be installed without making any changes to your existing doors and walls. You can rely on wireless video doorbells to protect your home if you are concerned about potential damage to your property. In addition, some versions of video doorbells can be mounted on the existing door peephole, giving your front door a more coordinated appearance.
Easy to Change User Accounts
This is, without a doubt, the most useful and convenient feature for any and all tenants. All major brands of video doorbells include the ability to change the user accounts that are associated with the doorbell. Setting up the device can be accomplished through the Settings menu in the phone app that you typically use to operate the gadget.
Some companies, such as Ring, even provide the option of creating a "Shared user." Additionally, you have the option of sharing your access and rights with another user in addition to connecting your own user account to the device's phone app. Landlords can take advantage of this clever feature to provide operational facilities to tenants while maintaining ownership rights over the property.
Also available are resets to accommodate a new tenant as well as complete transfers of control of the device from the owner to the tenant. If you were worried about chaos in the controllership, you shouldn't have been. All video doorbells have the option of resetting the device to its factory settings, which is a convenient feature.
Did any of these points assist you in making a decision? But wait, before you make a decision on whether or not to purchase a smart video doorbell, remember to consider the following factors:
Improper usage by tenants
Each and every tenant will have varying levels of interest in the upkeep of the video doorbell system. Some tenants may consider it unimportant and time-consuming to recharge their device batteries or clean the lens or faceplate of their device.
As a part controller of the device, improper use of the video doorbell may not only annoy you but may also make the device less useful to you in your own usage of it.
How to connect bunker hill security camera to internet
Constant alerts
If you share control of the video doorbell with the tenants, you will end up receiving all of the alerts that are intended for them as a result. Additionally, you will receive notifications for deliveries, visitors, and even unintentional motion detection in your phone app, all of which will have nothing to do with you.
Wiretapping and Other Privacy Laws– best doorbell camera for homekit
The ability of a video doorbell to record and store video footage simply by detecting motion is the most valuable feature of any video doorbell. Ironically, this also serves as a significant source of concern. best doorbell camera for home
According to Federal Law in the United States, people who are being recorded must be aware of the fact that they are being recorded, which translates into the fact that you cannot be privy to video and image recordings that do not involve you.
The best way to avoid any legal ramifications is to familiarise yourself with state and federal laws pertaining to the subject matter and include a clause in your rental agreement requesting permission from the tenants.
Conclusion- best video doorbell for renters

Overall, I strongly advise you to secure your home with a video doorbell, even if you are unable to install bulky security cameras on the walls of your home due to the restrictions imposed by your landlord. It is a relatively low-cost product that can provide you with a great deal of security and comfort, regardless of where you are in the world.
Frequently Asked Questions are listed below.

Is it true that people steal Ring doorbells?
It is not common for a Ring doorbell to be stolen, but it does happen. Using proprietary security screws, they are securely fastened to the wall in a manner that is both difficult and time-consuming to remove. In addition, the would-be thief's face would be captured on videotape for future reference. However, in the unlikely event that the device is stolen, Ring has a sophisticated theft policy in place that ensures a free replacement of the device within 14 days of the submission of a police report.
Is it legal to use ring doorbells in apartments?
They are legal as long as you adhere to the guidelines established by state and national legislation and include clauses in your rental agreement that request permission from your tenant before proceeding.
Are Ring doorbells a good investment?
If security is your primary concern, Ring doorbells are a wise investment that will pay for themselves over time. You can get relief at any time of day or night, and even when you are away from home, thanks to the immediate notifications and Live View. When you're not at home, smart doorbells can also help you avoid missing couriers and packages.
best doorbell camera for CONDO
best doorbell camera for HOME
best doorbell camera for HOUSE
best doorbell camera for BUILDING
best doorbell camera for FLAT

ring doorbell
wireless doorbell camera for apartment
best wireless doorbell camera
arlo doorbell
apartment doorbell camera
ring doorbell for apartments
arlo doorbell
15k
$0.39
wireless doorbell camera
6600
$0.97
ring doorbell for apartments
1000
$0.99
wireless doorbell for apartment building
30
$1.48
wireless doorbell for multiple apartments
10
$0.45
best video doorbell for apartments
–
–
ring doorbell for apartment peephole
–
–
best doorbell camera for apartments reddit
–
People also search for
arlo doorbell ring doorbell for apartments wireless doorbell for apartment building best video doorbell for apartments ring doorbell for apartment peephole best ring doorbell for apartments