Best Shotgun Microphones and Boom Mics for Filmmakers
Unless you have years of experience as a location sound professional, it can be difficult to determine which shotgun microphones have a good reputation and which ones do not. And, because the best shotgun microphones can be quite expensive, making the wrong choice can be extremely costly. The following are some of the best shotgun microphones for film currently available in the industry Best Shotgun Mic For long distance:
After high-quality video footage, good audio quality is the second most important thing to have: if your audio quality is poor, your entire video will suffer as a result.
The majority of low-quality microphones pick up every sound in the background, with the exception of the actual dialogue. This does not imply, however, that you must spend hundreds of dollars on basic audio equipment to achieve the desired results. Despite the fact that the market is densely packed with all kinds of microphones, it is possible to find one that meets your high audio standards without draining your bank account.
In order to assist you, we put several microphones through a rigorous audio test and came up with a list of the best shotgun microphones for film cameras that you can purchase.
Film Shotgun Mic Reviews
1. Sennheiser MKH416-P48U3 Super-Cardioid Shotgun Tube Condenser Microphone – Best Shotgun Mic For Film & TV
Check the latest price on Amazon.See the Sennheiser MKH416
Form factor: Stand/Boom-Mount
Sound field: Mono
Polar pattern: Lobar, Supercardioid
Frequency range: 40 Hz to 20 kHz
Maximum SPL: 130 dB SPL
Load Impedance: 800 Ohms
Sensitivity: -32 dBV/Pa at 1 kHz
Voltage: 48 V ± 4 V
Features- Best Shotgun Mic For Film & TV
The Sennheiser MKH416-P48U3 Super-Cardioid Shotgun Microphone is one of our favourite microphones for a variety of reasons, and this particular model is no exception. Whenever it comes to audio quality and versatility, Sennheiser has never failed to impress us. Each microphone offers exceptional performance, and the super-cardioid shotgun is on par with, if not better than, the condenser microphone.
Design

The first and most important feature we want to highlight is the condenser design, which makes the microphone resistant to moisture and thus makes it easier for users to capture high-quality audio in inclement weather and other harsh environments. The body is made of metal and has a matte black finish, which prevents any distracting reflections from appearing. A foam windscreen is also provided to shield the room from unwelcome wind noise generated by ceiling fans and heaters.
Performance

From a low to mid-range frequency range, the Sennheiser exhibits a hyper-cardioid polar pattern, which is already mentioned in the specifications. At high frequencies, the microphone transitions to a local pattern by at least 10dB at the off-axis points, indicating that it is sensitive to local patterns. According to layman's terms, a hyper-cardioid pattern is very similar to an ordinary super-cardioid pattern, but with a narrower, more focused front pick up angle than the latter. This results in an excellent job of blocking out any unwanted feedback and background noise from the microphone. Although the pickup angle of a supercardioid pattern is usually around 115 degrees, hypercardioid patterns have a pickup angle of approximately 105 degrees.
The Sennheiser did an excellent job of recording any dialogue and Foley with impressive clarity and full dynamics, as we discovered while experimenting with it. We can thank the wide frequency response, the high SPL handling, and, of course, the improved consonant articulation for this outstanding performance.
It's simple to assert that the microphone was created with professionals in mind by the manufacturers of the microphone. During the course of adjusting the angles, you will notice a gentle rise in frequency from 5Hz to 15kHz, which will improve intelligibility and provide a natural bass roll-off. This is beneficial in reducing the volume of any rumbling sound effects.
Because of the high sensitivity and low self-noise, you can avoid the hassle of post-production edits, such as gain boosting, thanks to the signal purity that is outstanding. Sennheiser shotgun microphones are powered by 44 to 52 VDC phantom power, which is the same as other shotgun microphones. In order to achieve this, the microphone has been designed to work with a variety of devices, including field and handheld audio recorders.
The bottom line is this:

With sharp directivity and powerful output, the Sennheiser MKH416-P48U3 microphone has much more to offer than just those two characteristics. This is an excellent companion for any filmmaker, as well as an excellent addition to your filmmaking equipment. Best Shotgun Mic For Film & TV
3. Rode NTG4+ Supercardioid Condenser Shotgun Microphone
Check the latest price on Amazon.See the Rode NTG4+
Form factor: Stand/Boom-Mount
Sound field: Mono
Polar pattern: Supercardioid
Frequency range: 20 Hz to 20 kHz
Dynamic range: 119 dB
Sensitivity: -32 dBV/Pa at 1 kHz
Impedance: 200 Ohms
Voltage: 12 to 48 V
Features:
Rode never fails to satisfy every customer and releases new microphones on a regular basis in order to meet the specific needs of each person. The Rode NTG4+ Supercardioid Condenser Shotgun Microphone is yet another exceptional device that can be used by both professionals and beginners in the field of recording. It provides significantly more functionality than the average microphone, and it does so at a significantly lower cost.
Design

Whenever we can, we describe the Rode NTG4design +'s as "innovative." A great pad, low cut, and presence boost performance can be achieved with the help of three digital controls. The microphone has a solid feel to it, so you won't have to worry about handling it delicately. Similar to many other Rode microphones, the Best Shotgun Mic For Film & TV package also includes a micro USB cable as well as a basic foam windshield to protect the microphone from the elements. The windshield, on the other hand, is insufficient for its purpose. Socks, dead cats, and individual windshields are among the items we recommend you purchase.
Performance

For starters, Rode's microphone has a super-cardioid polar pattern, which is quite common among shotgun mics. It does a good job of rejecting sounds from the rear end, but not so much from the side. But the improved back rejection is particularly useful for situations where there isn't a boom operator present and you find yourself mounting the microphone on top of the camera.
Furthermore, the overall sound quality is outstanding, particularly when operating in challenging conditions. The 10dB pad is the Best Shotgun Mic For Film & TV useful for cutting out any random or unnecessary sounds while also enhancing the clarity of higher frequency dialogues and conversations. Shortly put, NTG4+ does an excellent job of delivering natural and clean sound. Moving on, the audio at the higher end is more crisp when compared to the fuller and richer results at the lower end, which are more detailed and realistic. Furthermore, because of the frequency filters, you will not have to waste any time editing the audio files.
We saved the best for last, so to speak. Rode is equipped with a built-in lithium battery that has a life expectancy of more than 150 hours. Despite the fact that the battery takes a long time to drain, it can be recharged from any USB port in as little as 2 hours, which is ideal for careless users.
The bottom line
the Rode NTG4+ is nothing short of perfect. It possesses all of the characteristics one would expect from a high-quality shotgun microphone, including exceptional audio quality, an intuitive user interface, and the ability to perform well in challenging environments.
2. Rode NTG3B Super-Cardioid Condenser Shotgun Microphone
Check the latest price on Amazon.See the Rode NTG3B
Form factor: Stand/Boom-Mount
Sound field: Mono
Polar pattern: Supercardioid
Frequency range: 40 Hz to 20 kHz
Dynamic range: 117 dB
Sensitivity: -30 dBV/Pa at 1 kHz
Max output level: 8.2 mV
Voltage: 48 V ± 4 V
Features: BOOM MIC FOR FILMING
If you are familiar with the audio industry, you are probably familiar with Rode, which is one of the leading microphone manufacturers. The Rode NTG3B Super-Cardioid Condenser Shotgun Microphone is yet another high-quality piece from the company that delivers a reliable performance in a small package.
Design

There are several items included in the package, including a microphone, a zippered bag for storage, a foam windscreen, a microphone clip, and a weather-resistant aluminium storage cylinder, as well as a 3/8-5/8 inch stand adapter. Moving on, the microphone has a solid feel to it to the touch, which is surprising considering its metal construction. However, you won't have to worry about lugging around a heavy device to your shooting location because it is only 163g in weight. With the exception of an SLR port on the bottom, we couldn't find anything else on the body, which is similar to the other shotgun microphones.
Performance

According to our previous discussion, Rode has a super-cardioid polar pattern, and the rest of the specifications are impressive as well. In the aftermath of taking a look at them, we had extremely high hopes, to put it mildly. Fortunately, Rode includes a foam windscreen, which proves to be extremely effective at reducing the higher frequencies that can be heard.
Further, because of the high sensitivity, Rode is able to produce a powerful output without the use of excessive gain in the preamp. Despite varying the viewing angles, we were consistently impressed by the consistently excellent performance in terms of the gentle rise at high frequencies and the rumble-free audio at low frequencies.
Rode's design is devoid of switches and dials, allowing users to set up the microphone immediately without the need to fiddle with the settings. RF bias technology, which makes the body resistant to moisture while also allowing the microphone to capture high-quality audio even in adverse weather conditions, is built into the microphone.
NT3GB is an excellent choice for news anchors because it was designed with the goal of broadcasting with increased immunity to radio frequency radiation. Furthermore, it does an excellent job of minimising any handling noise, which is a significant issue with its competitors. In addition, the balanced output allows for a longer cable run, while the low self-noise and highly sensitive condenser element do a fantastic job of preventing any hissing sounds from being picked up.
Rode, like other shotgun microphones, operates on phantom power rather than batteries, making it compatible with a wide range of recorders and adapters.
The bottom line is this:

Without a doubt, the Rode NTG3B is an excellent microphone to purchase for your next television shoot or documentary project. We were blown away by the number of incredible features, which included minimal handling noise and improved immunity to radio frequency interference, among other things. Best Shotgun Mic For Film & TV
4. Sennheiser MKE 600 Short Shotgun Microphone
Check the latest price on Amazon.See the Sennheiser MKE 600
Operating Principle: Line Gradient
Sound field: Mono
Polar pattern: Lobar, Supercardioid
Frequency range: 40 Hz to 20 kHz
Maximum SPL: 132 dB SPL (Phantom Power)
Sensitivity: 21 mV/Pa (Phantom Power)
Voltage: 48 V ± 4 V
Features:
Sennheiser is one of the few microphone manufacturers in which we have complete confidence due to the powerful performance, high-quality construction, and wide range of features available. The Sennheiser MKE 600 Short Shotgun Microphone is a fantastic example of this and is an excellent microphone for the majority of video bloggers out there.
Design

This budget-friendly microphone changed our perception of what is possible in terms of affordable electronic equipment because it performs in a manner that is comparable to, if not superior to, some high-end microphones. It is compact and lightweight, making it an excellent tool to bring along on your next shoot. Furthermore, the well-designed body is specifically intended for the delivery of balanced, high-quality audio with a directional pickup pattern, which is unique to this model. In addition, a camera-mountable shock mount with two short rubber legs, rather than a rubber band, is included in the package.
Performance

As previously stated, Sennheiser has built a solid reputation over the years, which was sufficient justification for us to have high expectations for the MKE 600. In a nutshell, the MKE 600 does an excellent job of capturing audio, rejecting unnecessary background noises from the surrounding area, and delivering studio-quality audio through a variety of incredible features.
Shotgun microphones produce crisp audio with exceptional clarity, as demonstrated by Sennheiser's shotgun microphones. The dialogue is clear and focused, and the microphone did an outstanding job of blocking out any background noise and sound from the sides and back, which is a task that most high-end microphones struggle with.
When it comes to range, it works in the same way as the other shotgun microphones: the closer the microphone is to the sound source, the better the audio quality is produced. Following that, there is a low cut filter, which further reduces any low-frequency sounds and is especially useful in noisy outdoor environments. These filters are frequently required when recording mid- or high-frequency dialogues or when the microphone is mounted on a boom pole, among other situations. However, a low cut filter that has been activated will help to minimise wind noise and other handling sounds. However, we recommend that you purchase an additional windscreen because the windscreen that comes with the vehicle is only intended for use in draughty indoor environments.
Another noteworthy feature of the MKE 600 is the fact that users have the option of selecting their own power source. With a single AA battery or external power source, the microphone is compatible with a wide range of devices; for example, a battery-powered device can be used with video cameras and wireless systems, among other applications.
The bottom line is this:

It is safe to say that the Sennheiser MKE 600 is an excellent investment. In addition to high-quality audio, you'll get a durable yet compact body that makes transportation a breeze. There are a few minor issues, such as a faulty foam windscreen, but the advantages outweigh the disadvantages by a significant margin.
Boom mics for filmmaking
Rode VideoMic Pro+ Compact Directional On-Camera Shotgun Condenser Microphone
Form factor: Stand/Boom-Mount
Sound field: Mono
Polar pattern: Supercardioid
Frequency range: 20 Hz to 20 kHz
Dynamic range: 118.8 dB
Sensitivity: -33.6 dBV/Pa at 1 kHz
Max output level: 7.6 dBu
Battery Life: 100 Hours
Features:
Rode never fails to satisfy its customers, and after releasing a number of audio devices, the company introduced the Rode Videomic Pro Plus, which is widely considered to be one of the best microphones available. Previous Videomic users may not notice any difference, with the possible exception of a significant reduction in size.
Design

It shares the same minimalistic appearance and straightforward layout as other Rode microphones, with only the most essential features highlighted in bold type. This small, lightweight microphone, which has a horseshoe at its base, fits perfectly on top of an SLR camera. In addition to Rode's signature Rycote Lyre suspension system and a standard windscreen for wind protection, it includes a default windscreen. Moreover, it serves as a shock mount, reducing contact with the base and the surrounding environment while also reducing any unwanted handling noise.
Performance- film boom mic

Aside from its increased size, the Rode Pro Plus includes a number of innovative features, such as a digital switching interface that allows you to select from a variety of recording modes to suit your needs. The first mode is a two-stage high pass filter that reduces low-frequency background noises by reducing their frequency. As a result, higher frequencies are able to penetrate more easily, while rumbling sounds are blocked out completely. The second mode, which is a three-stage gain control for boosting the audio signal, is now available. Most mirrorless cameras are equipped with a quiet preamp that becomes a nuisance when the gain settings are increased. This mode reduces the amount of in-camera gain, which improves clarity.
Another feature is the ability to use a high-frequency boost mode to bring out even more detail in the audio, which is especially useful for dialogue and Foley. The final mode is a safety channel setting, which is ideal for recording audio in environments with varying levels of background noise. It records audio at two different gain levels in order to avoid clipped recordings as a result of a sudden increase in the volume of the recording.
Despite the fact that the majority of shotgun microphones operate on phantom power, a 9V battery is required to power Rode for approximately 70 hours. However, Rode makes use of cutting-edge on/off technology to keep battery runout to an absolute minimum. As soon as you connect the microphone to your camera, the microphone will turn on and off in sync with the camera. This is particularly useful for those who are prone to forgetting to turn their microphone off after using it. Furthermore, by claiming the extended warranty, users will receive a free Deadcat, which is a fantastic accessory for improving the coverage against wind noise.
The bottom line is this:

Rode a video mic is an excellent choice for anyone considering upgrading from their camcorder's internal microphone to higher-quality audio equipment. Although the compact and lightweight design was appealing, we were most impressed by the studio-quality audio quality.
RODE VideoMic Studio Boom Kit
Form factor: Stand/Boom-Mount
Sound field: Mono
Polar pattern: Supercardioid
Frequency range: 40 Hz to 20 kHz
Dynamic range: 114 dB
Sensitivity: -38 dBV/Pa at 1 kHz
Max output level: 6.9 dBu
Voltage: 9 V
Features:
The RODE VideoMic Studio Boom Kit is highly sought after by a wide range of customers for a variety of legitimate reasons. The majority of filmmakers find themselves wandering around aimlessly looking for compatible accessories for their microphone. The kit saves you time while also ensuring that you get the most out of each piece.
Design

As soon as you open the box, you should find a RODE VideoMic Directional On-Camera microphone as well as a Rycote lyre suspension mount, a RODE windscreen, a 6′ Boom microphone stand, an additional 25′ of 3.5mm extension cable, and a thread adapter. The microphone itself is small and lightweight, but it is durable enough to withstand rough and demanding shooting conditions without breaking down. Rode's integrated shock mount and windscreen design make it an excellent choice for outdoor photography.
Performance

What are you going to use all of these pieces for? The cable is ideal for situations in which your audio source is located far away from your camera: all you have to do is position the microphone over your desired audio source and position the camera in the designated location. The 6-inch stand, on the other hand, is equipped with a boom arm that is ideal for conducting a sit-down interview. It is not necessary for you to exhaust yourself by holding the microphone for both yourself and your guest. Isn't it amazing how well this works?
Rode, as previously mentioned, is equipped with an integrated shock mount and windscreen design for added protection. Its ergonomic design prevents it from picking up excessive wind noise, whereas the former feature allows users to mount the microphone directly to your microphone in order to limit any noise from camera handling and vibrations.
This device, like other Rode microphones, employs a super-cardioid polar pattern to capture the majority of the sound from the front while attenuating the remainder from the sides and rear. Because of the directional condenser element and active electronics, we were able to hear extremely detailed audio that was significantly better than that produced by the built-in microphones.
Another noteworthy feature is the long runtime provided by the 9V battery: Rode can operate for up to 100 hours on a single charge. If the power LED is still green, you can continue to use the microphone for up to an hour after it has turned red, but not longer than that.
The bottom line is this:

For video bloggers, mobile journalists, and any other shooters on the run who want to be fully prepared for shooting in challenging conditions, the Rode Videomic is an excellent choice. With several incredible features and a fully loaded kit, there is nothing else a filmmaker could possibly require to make their audio quality the best on the block.
Sennheiser MKH416 Super Cardioid Condenser Microphone

The Sennheiser 416 shotgun microphone is one of the most widely used shotgun microphones in the world, and is used by location sound and boom operators around the world. Over the course of several decades, it has established itself as an exceptionally good shotgun microphone for filmmakers and television broadcasters alike (an earlier version of this microphone has been in use since the 1960s!).
It has a rugged all-metal body, a super cardiod sound pickup pattern– which means you will be able to isolate dialogue without picking up a lot of background noise– and high sensitivity, which are all important features for filmmakers.
The Sennheiser 416 shotgun/boom microphone is the industry standard and has earned its place both inside and outside of the entertainment industry. It is not the cheapest cardiod boom microphone available, but it is far from the most expensive, and good sound is always worth the investment.
Article continues below
Sennheiser MKH 8060
In comparison to its older, more established 416 sister, the Sennheiser 8060 is a much more recent microphone that has received a great deal of praise in its own right.
Known for its strikingly natural capture of a wide range of frequencies (more natural sounding than the 416), as well as a nice tight pickup pattern that eliminates background noise, the 8060 is available in a package that is almost several inches shorter than the 416! Overall, the 8060 captures a little more off-axis sound (although not quite as tightly) than the 416, and it is also a slightly more sensitive microphone than the 416.
Because of its short length, this microphone can be mounted on a boom pole or even directly on your camera, allowing you to record without having the mic peek into your shot.
Audio-Technica AT897 Line + Gradient Compact Shotgun Condenser Microphone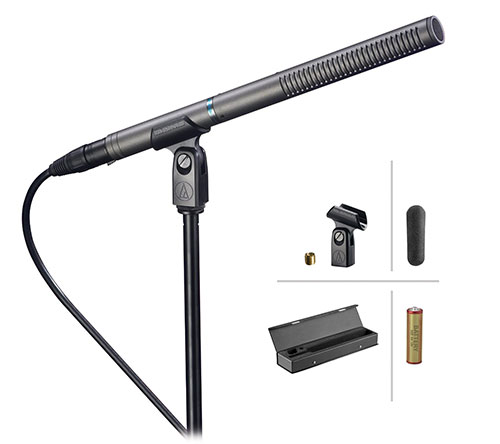 The Audio-Technica 897 is another well-regarded shotgun microphone for filmmakers, with a price tag to match. In almost as much time, it has earned a reputation as a reliable shotgun microphone, particularly among indie filmmakers, for being a quarter of the price of the Sennheiser 416 and offering comparable performance.
However, even though it is about an inch longer than the 416, the medium shotgun length of only 11 inches means that the microphone is still easy to keep out of the shot, even in tight shooting circumstances. The AT 897 has developed a reputation in film and television over the years as the rare budget microphone that doesn't sound like absolute garbage.
Sennheiser MKE 600 Short Shotgun Microphone

It is the Sennheiser MKE 600 boom microphone, which is a newer model that is gaining popularity in the independent filmmaking community. It has a very directional pickup pattern, which means it won't pick up a lot of background noise, as well as a rugged metal housing to protect it from damage. Unlike the other microphones on this list, the Sennheiser 600 operates on phantom power, which provides approximately 150 hours of operation. Alternatively, an AA battery can be used to power the microphone.
As well as a shock mount, this boom mic kit includes a dead cat wind shield for use in high-wind situations and a normal windshield for use in low-wind indoor shooting conditions.
Schoeps CMC6 MK41 Super Cardioid Microphone
It is a shotgun microphone manufactured by the highly regarded German audio engineering firm Schoeps (pronounced "sheps") that is well known and beloved by audio engineers worldwide. This microphone has a super-cardioid pickup pattern, which means it will effectively separate dialogue from background noise when recording.
Despite the fact that it is a little more expensive than some budget options, this microphone is widely used in the television and film industries; professionals rely on it on a daily basis to capture excellent sound in a variety of settings. In terms of selecting a microphone for recording dialogue, this is a very safe bet. Despite the fact that it is not in the shape of a traditional shotgun microphone, it has many of the same characteristics as one, albeit in a shorter and more compact package.
Rode NTG-3 Location Sound Booming Kit

For those working on a tight budget, Rode is well-known in the indie filmmaking community. The company is best known for its low-cost video microphones, which can be used with DSLR cameras that have 1/8th inch stereo audio jacks. The company also manufactures a line of shotgun microphones.
One of these, the NTG-3, is a very good super-cardioid shotgun microphone, despite the fact that the majority of them are not of professional quality, as an example. The Rode NTG-3 is constructed of lightweight but durable aluminum.
This kit includes a boom pole, a blimp for use in high-wind conditions, and a 20-foot XLR cable for recording. It is also available in a plain black finish without the accessory kit (boom microphone only).
frequently asked questions about shotgun microphones and boom mics
What is the difference between a shotgun mic and boom microphone?
For video and film production, are provided.
The difference between a shotgun microphone and a boom microphone is as follows:
Although these terms are frequently used interchangeably, the term "boom" refers to a boom pole in the technical sense. It is also sometimes used to refer to a microphone that is mounted on a boom pole and is held either by a person or by a stand, as opposed to a handheld microphone. A shotgun microphone is a specific type of microphone that is most commonly used on boom poles and is also known as a shotgun microphone.
In general, shotgun microphones are quite long and have a pickup pattern that is similar to that of a straight line (hence the nickname). Although shotgun microphones can be technically classified as either omnidirectional (capable of picking up sound from all directions) or directional/cardioid (capable of picking up sound only from the direction in which they are pointed), the directional or cardioid versions are most commonly used on film sets. This is done in order to reduce background noise. Instead of picking up all of the background noise that comes with being outside, a hyper-cardioid shotgun microphone mounted on a boom pole will have an easier time isolating dialogue and capturing more pleasing sound in an outdoor setting. As a result of their exceptional ability to reject off-axis background noise, shotgun microphones are among the best available for film production. Even the most advanced shotgun microphones will struggle to capture good dialogue sound in a crowded environment, regardless of how well they are designed.
What is the point of mounting a shotgun microphone on a boom pole instead of just on-camera?
In filmmaking, boom poles are used to suspend microphones so that they are as "close to the sound" of dialogue as possible without being visible in the shot itself. Given the range limitations of every microphone, positioning the microphone itself as close to people's mouths as possible will produce the loudest and clearest sound with the least amount of background noise, and vice versa. A boom pole is a simple tool for accomplishing this. The use of a wireless lavalier microphone on the person speaking is another option, though it has some disadvantages (sound quality may be different, you may need to conceal the microphone under their clothing, which can rustle, etc.).
What do you need to put together a complete boom microphone system?
In most cases, a shotgun microphone, such as one of the models shown on this page, will suffice. A shock mount will be required next, which will be used to connect the microphone to your boom pole. Finally, you'll need an XLR cable to connect the microphone to either a sound mixer or directly into your camera, depending on your preference.
best shotgun mic for long distance
best mic for filmmaking
best shotgun mic for field recording
best shotgun mic under 500
shotgun mic review
rde videomic ntg best shotgun mic for filmmaking
rode shotgun mic
best shotgun mic 2021
best shotgun mic for long distance
best shotgun mic for dslr
best mic for filmmaking
best shotgun mic for field recording
rode shotgun mic
best shotgun mic under $100