I have found the Best Camera for Pet Photography for you. If you are struggling to finding the best affordable camera for pet photography? I will help you for finding a camera for your pets.
From the moment we bring our new best friends home, we are consumed with the desire to capture images of them in various settings. A good camera for pet photography is the most effective way to elevate your everyday phone snaps into something a little more special – you might even consider going into the pet photography business yourself at some point; after all, the market for pet photographers is enormous.
Best Affordable and budget Camera for Pet Photography
In this article, we'll take a look at some of the most important factors to consider when shopping for a camera that will be used exclusively for pet photography. We'll also include some excellent models that are currently available for purchase at a variety of price points. Having selected the appropriate equipment, learn how to take great pet pictures and how to take action-packed dog pictures to ensure the best possible results.
Read on to find out more… 
Fast Frame Rates for Pet Photography Camera
The fact that pets are notoriously difficult to photograph in a sharp manner can make it difficult to get sharp images of them. This is especially true if you want to photograph them doing something they enjoy doing, such as chasing a ball around the yard.
Searching for a camera that takes decently quick pictures pays off in this situation.. For capturing a significant amount of movement, you should aim for at least 12 frames per second. However, some cameras can capture even more movement, which is fantastic news for videographers. Consider whether the stated speeds include Autofocus, as this will mean the camera refocuses between each shot, resulting in even more impressive results.
Excellent Autofocusing 
Pay attention to cameras that have super-fast autofocusing, a widespread of AF points across the frame, and, in particular, good tracking focus when it comes to autofocus.
Many modern cameras are also equipped with Animal Eye AF, which allows you to capture pin-sharp images even when your pet is moving around the frame. It will also eliminate the need to worry about moving the autofocus point when photographing pet portraits if the animal's head moves slightly – focusing on the eye will generally result in the best shots.
A Good Zoom or Range of Lenses 
Despite the fact that we all enjoy getting up close and personal with our pets, photographing them from a distance tends to produce more natural-looking images. In order to accomplish this, taking photographs from a distance is the most obvious method of accomplishing it.
Then when looking at fixed-lens cameras, pay attention to those with long zooms, and when looking at interchangeable-lens cameras, check to see if the manufacturer offers a good selection of zoom lenses in their line-up.
An Adjustable Screen
When photographing your pets, one of the most important tips we can give you is to get down on their level in order to capture the most natural shots. You will save time and effort if you have an adjustable screen because you will not be forced to scrabble around on the floor to compose your shots.
Adjustable screens are typically either fully articulating – meaning they can be rotated in a variety of directions and even face forward – or they are partially articulating. These are the most adaptable, but it may take a little longer to get into the position you require. Tilting screens are another option. They allow you to quickly pop down and shoot from a low angle, which is often sufficient for taking a good pet photo in a short amount of time.
However, look for models that include more than just a fixed screen so that you have the best chance of composing from the most comfortable angle for your pet.
What is Best Camera for Pet Photography?
Consider the Design- dogphotographymasters
Designs for cameras range from pocket-friendly portable models that are great for snapping pictures on the go to much more advanced models that are larger and more unwieldy in their size and functionality.
There is no right or wrong answer when it comes to determining which design is the best because it will all depend on the individual and how they intend to use the camera. Consider something small and lightweight if you want something that will fit neatly into your life and be available at all times for those unpredictable pet moments that come up unexpectedly.
Best Affordable Camera for Pet Photography
For those who are seriously interested in pet photography – or who may be considering a career in the field – investing in a larger and more advanced model will almost always result in better overall shots.
You should look for something that provides a good balance of portability and functionality if you fall somewhere in the middle.
Five Best Affordable Camera for Pet Photography
There is an enormous variety of different cameras available at various price points and skill levels. Our selection of these five models was based on the fact that each of them provides something unique and useful for pet photography.
Canon EOS R6
Best DSLR Camera for Pet Photography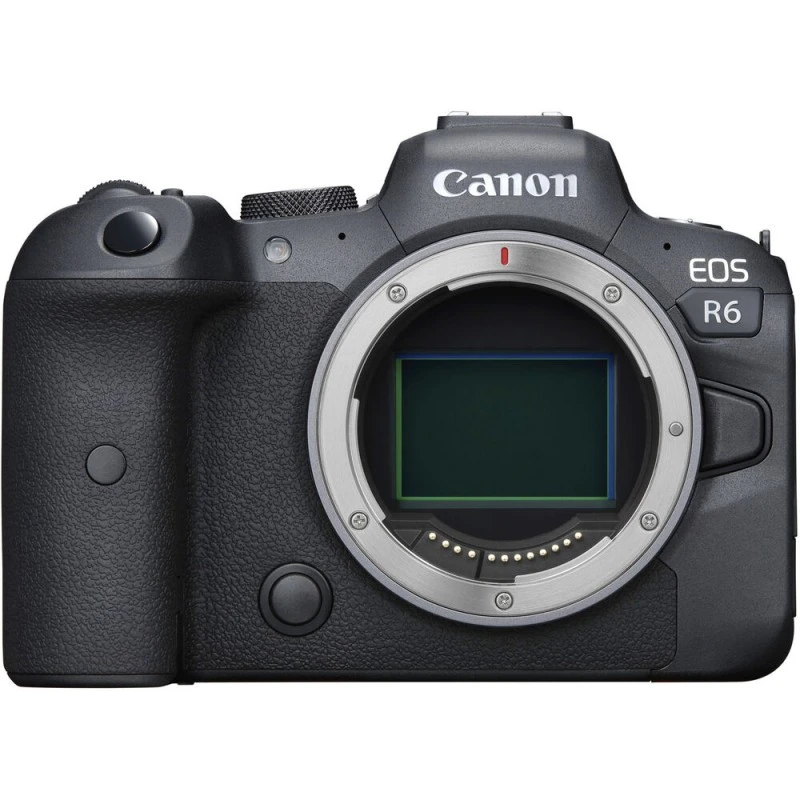 Specifications
20fps silent shooting1Plus a 12fps mechanical shutter when you need it
Up to 8-stop image stabilisation*For ultra-sharp long exposures without the need of a tripod.
ISO 102,400For excellent low-light performance
4K up to 60p Reproduces motion with realism and clarity
20 megapixel frame sensor with superb low-light performance and dynamic range
Dual Pixel CMOS AF IIAble to recognise and track eyes, faces and animals.
You should consider the Canon EOS R6 if you are serious about pet photography, or if you are thinking about going into the professional field.
It can shoot at up to 20 frames per second and has extremely accurate Eye AF, excellent focusing, and excellent image quality. There is a good selection of lenses available for the Canon EOS R range, and you can also use older DSLR lenses with it if you use an adapter (which is included).
The fact that this is a high-end camera means that it is best suited to those who have a strong interest in photography or who are thinking about going pro. However, it is a fantastic choice for photographing wildlife.
best pet camera
Excellent autofocusing, fast frame rates and a good range of other features characterize this full-frame mirrorless camera. High-end enthusiasts and professionals will find this model to be an excellent choice.
Nikon Z6
Best Camera for Pet Action Photography
Specifications
Sensor: 24.5 MP FX BSI Sensor, 5.9µ pixel size.
Sensor Size: 35.9 × 23.9mm.
Resolution: 6048 × 4024.
Native ISO Sensitivity: 100-51,200.
Boost ISO Sensitivity: 50 (LO) 102,400-204,800 (HI)
In-Body Image Stabilization: 5-Axis.
RAW Formats: 24.5 MP (RAW), 13.7 MP (mRAW), 6.1 MP (sRAW)
The Nikon Z6 is a capable all-around camera that boasts some impressive specifications for pet photography. A tilting screen, Eye AF and an extensive range of lenses are all available for use with it. It can shoot at up to 12 frames per second and has a tilting screen. If you already have older DSLR lenses, you can use them with an adapter, just like you can with the Canon option.
It is a good choice for those who enjoy photographing pets as well as other subjects such as friends, family, and travel. It is available at a mid-range price point. best Nikon camera for pet photography
A full-frame mirrorless camera with a good range of specifications that make it well suited to a variety of different types of subjects, including pets, in a variety of settings.
Panasonic FZ2500
Best beginner camera for pet photography
Specifications
20.1MP 1″ High Sensitivity MOS Sensor
Leica DC Vario-Elmarit f/2.8-4.5 Lens
24-480mm (35mm Equivalent)
0.74x 2.36m-Dot OLED Live View EVF

This camera is classified as a "bridge" camera, which means it has a design that is similar to that of a DSLR or mirrorless camera, but it has a fixed lens that has a significant zoom range.
Advertisement
There is a 20x optical zoom available, which gives you plenty of flexibility when shooting from a distance. The burst shooting mode allows you to shoot at 12 frames per second as well, but what's more interesting is that you can use the "4K Photo" mode to extract clips from videos shot at 30 frames per second.
Others features that are advantageous are the fully articulating screen, the lightning-fast autofocus, and the high-resolution viewfinder.
A well-specced bridge camera with a large sensor, 20x zoom, and a screen that can be fully articulated. Pet photographers can use 4K Photo to capture photographs at a frame rate of 30 frames per second.
Sony RX100 VI
Best Sony Camera for Pet Photography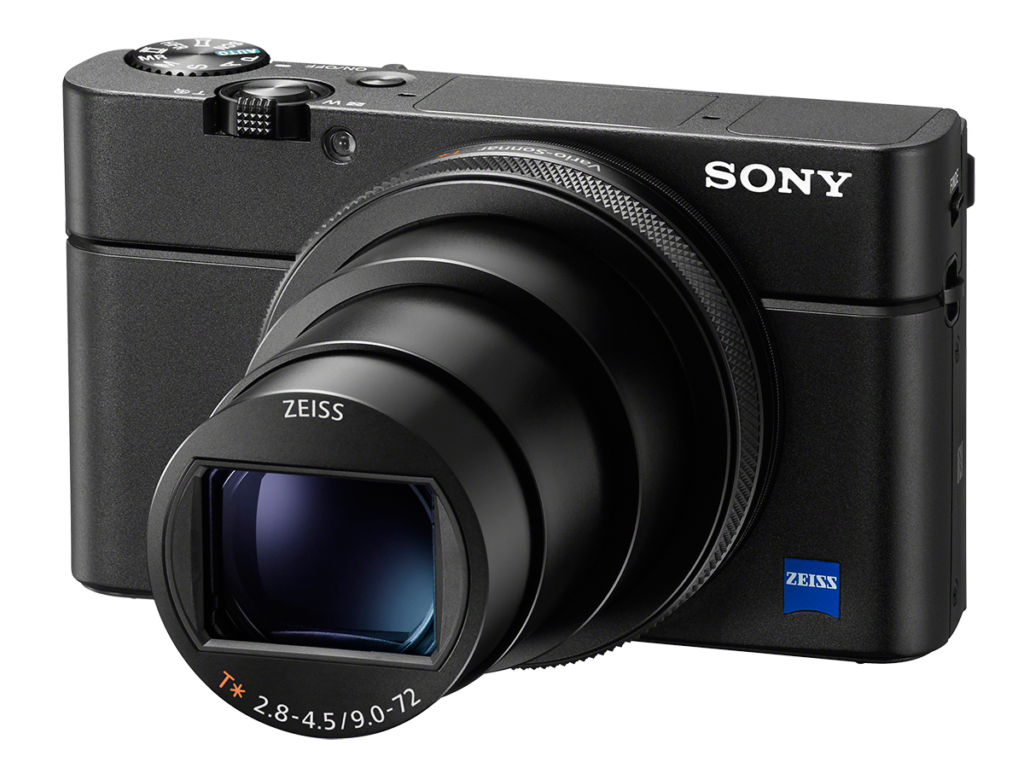 Sony RX100 VI Specifications
20-megapixel, one-inch BSI-CMOS sensor.
24-200mm zoom.
F2.8-4.5 aperture.
315 focus points, with 24 fps continuous shooting.
Three-inch tilting LCD display, with 921K dot resolution.
OLED electronic viewfinder with 2.3M dot resolution, 100 percent coverage.
If you're looking for a camera that's both affordable and capable of producing high-quality images, Sony's RX100 series is an excellent choice.
The problem is that the most recent models are prohibitively expensive to purchase. As a result, we've gone with a slightly older model that, while still expensive, is a little more affordable than the current model.
The RX100 VII comes with a slew of useful features that are ideal for pet photographers. With 10x optical zoom, Eye AF, fantastic tracking focus, and the ability to shoot at up to 24 frames per second with continuous autofocus, this camera has a lot to offer.
That's impressive for any camera, but it's even more impressive for something that can fit in your pocket and be ready to capture those spontaneous pet moments.
A compact camera with a lot of power that fits in your pocket. Pet photographers will appreciate the 24 frames per second shooting, 10x zoom, and Eye AF, as well as the fact that it will fit neatly into your life with minimal effort.
Fujifilm X-T30
Best Camera for Pet Photography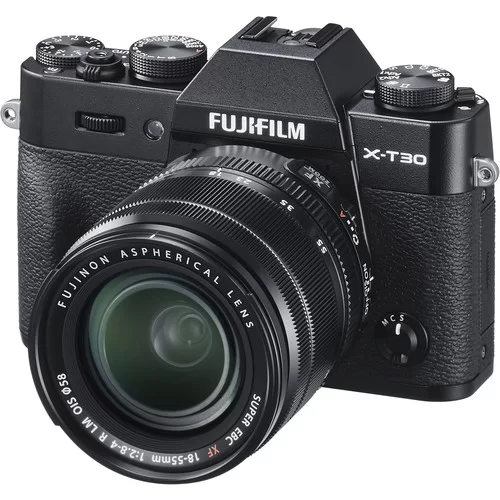 specifications- Best Affordable Camera for Pet Photography
26.1MP APS-C X-Trans BSI-CMOS 4 sensor
X-Processor 4
Hybrid AF system has 425 phase-detect points spread across the entire frame
Burst shooting at 30 fps with no blackout (but 1.25X) crop using electronic shutter; 20 fps without crop
2.36M-dot OLED viewfinder w/0.62x equiv. magnification and 100 fps refresh rate in boost mode
3″ tilting touchscreen display
Dedicated drive, shutter speed and exposure compensation dials
Joystick for AF point selection
Eterna Film Simulation mode
DCI and UHD 4K/30p capture using full width of sensor
4:2:0 8-bit internal recording or 4:2:2 10-bit HDMI output
USB-C socket with headphone support
Single SD card slot (UHS-I only)
This interchangeable lens camera from Fujifilm falls somewhere in the middle of the beginner and professional levels, making it a good choice between the two.
It shares many of the same specifications as its more advanced and more expensive sibling, the X-T3, many of which are particularly appealing to photographers who specialise in animal portraiture. Autofocusing is superb, and the camera can shoot at up to 30 frames per second. It also has a tilting touch-sensitive rear screen.
Advertisement
As a result, although you might start with a basic kit lens, it would be wise to upgrade to a longer zoom lens for pet photography as your skills and experience progress.
To top it all off, the X-T30 is a good size, so it isn't too heavy to carry around, and its retro design makes it a pleasure to look at as well as use.
There are some excellent features for pet photography in this mid-range mirrorless camera, including 30 frames per second shooting, a tilting screen, and excellent tracking focus. It also has a nice feel to it and a lovely appearance.
Best camera for pet photography- More best cameras
You can't get away from the fact that pets have a special place in our hearts. Pet photography is a wonderful way to preserve a treasured memory of your pet for future generations. However, in order to capture the best images possible, you'll need the right camera. Here is a list of the best cameras for pet photography that we have found. This comprehensive list is sure to have something to suit your needs, whether you're a seasoned pro or a student on a tight budget. Happy shopping!
Canon EOS M50 Mark II
The Canon M50 II is the camera that takes the top spot on our list of the best cameras for pet photography. This is an APS-C mirrorless setup that provides you with greater flexibility and a more affordable price than a full-frame option while maintaining high quality.
The Canon EOS M50 II is capable of producing high-quality still images in both JPEG and RAW formats. Please keep in mind that shooting in RAW rather than JPEG allows for the best post-processing results. This particular Canon EOS M50 bundle includes two lenses: the EF-M 15-45mm f/3.5-6.3 IS STM and the EF-M 55-200mm IS STM (both EF-M mount). With this lens, you'll have an excellent range of focal lengths for both scenic and close-up pet portraits.
The M50 II has excellent autofocus performance. This is beneficial for pet photography because animals rarely remain still for long periods of time – you need autofocus that is both fast and accurate!
Fully automatic shooting, as well as semi-automatic modes like shutter and aperture priority, are also available with this camera. The ability to quickly capture pet photos without the need to fiddle with manual settings is extremely useful when photographing pets on the go. For those who prefer to operate the device in complete manual mode, a single button press will do the trick.
This camera is a good choice for those who are new to pet photography or those who want to take their pet photography more seriously. When shooting at the maximum continuous shooting speed of 10 frames per second, you'll have no trouble capturing some great action photos of your pets.
Canon PowerShot SX730
Best Affordable Camera for pet Photography
The Canon PowerShot SX730 is our budget pick for the best cameras for pet photography on our list of the best cameras for pet photography. While a point-and-shoot camera like this one will not suffice for professional pet photographers, it is an excellent choice for those who want something more advanced than a smartphone camera for their first photography project.
You can get great close-ups of timid or skittish pets such as guinea pigs with the powerful 40x optical zoom on the SX730.
It also has optical image stabilisation, which helps you take sharper photos in low light conditions, as well as subject-tracking autofocus, which allows you to capture pets while they are moving.
This camera has a variety of automatic shooting modes to cover a wide range of situations, and it also has the ability to capture 1080p video and timelapse videos. If you prefer, you can start shooting right out of the box because it is extremely simple to operate. The SX730's only drawback is that it does not support RAW format shooting, which is a shame. This is an absolute must-have for professional pet photographers who need to produce large-format, high-quality prints for their customers.
Because of its small size and light weight, this camera is also ideal for travelling purposes. You can go hiking with your dog all day and still get some great shots – all without having to carry around a bulky DSLR camera around your neck!
Fujifilm X-T30 
The Fujifilm X-T30 is a mirrorless camera that has been included in our roundup of the best cameras for pet photography.
Users looking to upgrade from a point-and-shoot or bridge camera to something with more professional features will appreciate this small but powerful mirrorless camera. The autofocus performance of the X-T30 is even better than that of its more expensive big brother, the X-T3. It also produces images that are sharp and accurate in terms of color in both RAW and JPEG formats.
Image stabilization is available with the kit lens that comes with this camera, which can be used in either automatic or manual mode. The camera body, on the other hand, is not stabilized, which is in contrast to some of the competition. If you're going to be shooting at slower shutter speeds, you might want to consider a camera that has built-in image stabilization. The kit lens does not have a telephoto focal length, but on a crop sensor, the focal range of 15-45mm isn't too shabby either. However, you may want to consider purchasing additional lenses for your camera in the future so that you have something to cover all shooting situations.
The incredible 30 frames per second shooting rate are one of the features that distinguish this camera as a top choice for pet photography. As a result, you'll never miss a single movement again. You will, however, have to make some sacrifices in order to achieve this high rate. It is necessary to use the electronic shutter mode, which results in a 1.25 crop on your photographs.
Canon EOS Rebel T7
When it comes to pet photography, the Canon EOS Rebel T7 is one of the best DSLR cameras for beginners that money can buy. Although the Canon Rebel series has been around for quite some time, they continue to be a top choice for those who are just learning how to use a DSLR.
The T7 is a basic camera that does not include any fancy features such as a touchscreen. However, it is equipped with all of the modes and options necessary to capture stunning images in both JPEG and RAW formats. The Intelligent Auto mode allows you to start shooting right out of the box, which is extremely convenient for capturing those fleeting moments with your pet that are otherwise difficult to capture. Like all DSLR and mirrorless models, you have the option to shoot in manual mode, giving you complete control over the camera.
It does, however, come with an optical viewfinder, which some people will find more convenient. Although those who are accustomed to using smartphone cameras may find this to be a novel experience. The T7's autofocus is accurate and quick, and the camera is equipped with image stabilization to make shooting in low-light conditions more comfortable.
The kit lens that comes with the camera is the standard Canon 18-55mm zoom lens, which will suffice for the time being, but you will most likely want to expand your collection of pet photography equipment.
When compared to other entry-level cameras, the Rebel series is beginning to appear dated. The T7, on the other hand, is a reliable and reasonably priced option for beginning or intermediate pet photographers.
Nikon D3500
A Canon entry-level DSLR was on our list, but the Nikon D3500 is a good choice if you want something more traditional from Nikon in your camera bag.
The D3500's technology is also outdated when compared to competing cameras, but it is still a fantastic camera to use. Beginners will appreciate Nikon's Guide Mode, and more experienced photographers will appreciate the standard manual control options. Although the LCD screen is not touch-enabled and the camera does not have an optical viewfinder, these features may actually be advantageous to some photographers.
The AF-P DX NIKKOR 18-55mm f/3.5-5.6G VR kit lens is a good entry-level lens for Nikon DX cameras. Even with the lens attached, the DSLR is still relatively lightweight and compact, making it easy to carry around even when shooting for extended periods of time on location.
It can shoot up to 5 frames per second on continuous shooting, which isn't the fastest speed for capturing your pet in action, but the images are all high-resolution and beautifully sharp regardless of the frame rate.
Given that it has a wide ISO range, this is an excellent camera for shooting in low-light conditions. Vibration Reduction is built into the lens, which allows you to shoot handheld at slower shutter speeds as well. When photographing pets, handholding your camera for ease of movement and speed of capture is frequently the only option.
This small DSLR will not break the bank and is an excellent choice as a starter camera or as an upgrade for your pet photography needs. It also integrates with Nikon's SnapBridge app, which allows for quick photo sharing. In the event that your clients wish to view and/or rate the photographs you have taken, or if they wish to select their favorite photographs, this feature can be useful.
Sony Alpha a6400
There are a number of reasons why the Sony Alpha A6400 deserves to be included on this list of the best cameras for pet photography.
Because Sony claims that its autofocus system is the fastest in the world, and because it locks focus in 0.02 seconds, you can capture images in lightning speed. As previously stated, having a steady hand is always advantageous when photographing unpredictable pets! Although the continuous shooting rate of 11 frames per second is not the fastest available, it is more than sufficient for capturing most pets in action.
This version includes the 18-135mm kit lens as standard equipment. Wide-angle to close-up shots are all covered by this focal range, which is ideal for almost any shooting situation. The precise AF subject tracking system is excellent for following pets on the move, and you can choose which subject to track using the touch screen, which is a convenient feature. If your pet is playing in a group, you can use this to ensure that your pet is always the one who is the center of attention.
A real-time Eye AF option is also available, which will track either the left eye, right eye, or Auto to ensure that the eyes are sharp and clear in the images taken with the camera. As previously stated, this is ideal for photographing pets that move around suddenly and rapidly.
This camera will appeal to professional pet photographers because it includes all of the features they require. Beginners will find the a6400 to be simple to operate as well. Manual control is provided by the P, A, S, and M shooting modes, as well as Auto, Scene Modes, Panoramic Shooting, Slow & Quick video recording. It also has a built-in flash.
There aren't many drawbacks to the a6400, actually. The menu system, on the other hand, is extremely long and full of options, and it can be confusing and frustrating to use until you become familiar with the camera.
The camera body itself is one of the smallest APS-C mirrorless cameras available, and it fits comfortably in the palm of your hand. It's a sturdy and well-built camera that has been weather-sealed for protection. It should therefore be able to withstand the stresses of shooting in wet or dusty conditions when used in conjunction with an appropriately weather-sealed lens. This means that you can take the a6400 on a shoot with dogs or horses to the beach or river without having to worry about a few splashes of water or sand ruining your camera's electronics.
Although it isn't the cheapest mirrorless camera on the market, the Nikon Z7 isn't even close to being the most expensive. When you consider the lens as well, it represents excellent value for money.
Which Pet Camera Is Right for You?
The right camera for your pet photography will ultimately come down to a few key considerations: your budget, your skill level, and how serious you want to be about your pet photography. The Canon M50 II is a good choice for anyone looking to improve their pet photography skills, while the Canon PowerShot SX730 is a more affordable option for hobbyists who simply want to capture beautiful images of their pets in their natural environment.