A list of canon cameras with digic 8 processor and DSLR Mirroress Canon is a brand that is well-known for producing high-quality cameras and imaging technology. Digic 8 image processor The digital image processor that is built into every camera is an absolutely critical component of the device. In this regard, the Digic 8 image processor from Canon has proven to be one of the most powerful options available for ensuring a more enjoyable shooting experience. The processor has completely redesigned the excellent camera performance, pushing it to new heights.
Today, we'll look at a few high-quality Canon cameras that are equipped with the Digic 8 image processor. But first, we'll try to figure out how much efficiency the Digic 8 image processor manages to cram into its small package.
Digic 8 Image Processor – What does it promise?
The Digic 8 image processor has been developed with the goal of bringing about significant improvements and enhancements in the efficiency of shooting. Digic 8 now supports ISO speeds as high as 25600, with the ability to be increased to 51200 if necessary.
As more and more cameras are introduced with increased functionality, the demand placed on image processors has increased significantly as a result. Its features, such as the ability to process data at speeds up to 40 times faster than its predecessor, the Digic 7, ensure that the Digic 8 lives up to the hype.
It has been possible to include features such as Digital Lens Optimizer and lens aberration correction features on its cameras as a result of the new processor. Having the ability to increase ISO speeds all the way up to 40000 has proven to be extremely useful when photographing in low light conditions. When shooting at high ISO settings, the Digic 8 processor is in charge of noise reduction. This will ensure that even images shot at a high ISO have a consistent level of digital noise throughout the image.
Another advantage associated with the Digic 8 image processor is that it provides faster and more accurate autofocus. With the addition of the two-dimensional information, the Digic 8 processor also takes into account the depth information. As improved background information would be beneficial in the long run, this is useful and practical in the short term. This further improves and enhances the recognition of the subjects, as well as making it easier to track them down more quickly. An additional application area in which Digic 8 has proven to be effective has been in the field of Eye Detection Autofocus. Face detection must be enabled for it to function properly, and it aids in pinpoint focusing capability.
Canon Cameras with the Digic 8 Processor: The Best of the Best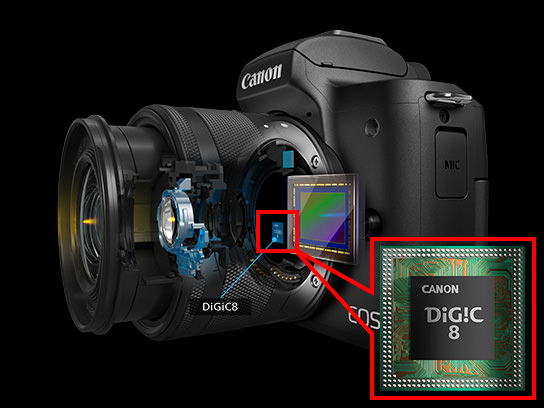 Following your understanding of what the Digic 8 image processor has been able to accomplish with its capabilities, here are a few of the best Canon cameras that are equipped with Digic 8 image processors for your consideration.
Canon Powershot SX70 digital camera- canon digic 8 vs 7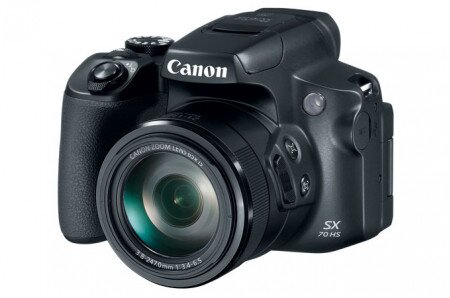 canon cameras with Digic 8 processor
The Canon Powershot SX70 is canon cameras with Digic 8 processor and a bridge camera that gives you access to a wide range of compelling features, all of which are ably supported by the Digic 8 processing engine. In the case that you are looking for one of the most beautiful and perfect camera options, then this should be one of your top choices.
In terms of performance for a bridge camera, the 6X optical zoom combined with dual image sensing image stabilization would be the best you could expect. The 20.3 MP highly sensitive CMOS sensor should make it one of the best options available at any time in history. Another excellent feature that you should consider is the compatibility with 4K video recording, which should be quite impressive.
You have a lot of shooting perfections at your disposal – everything from far-away objects to ultra-wide videos to macro shots and everything in between. Another advantage of the 21 mm extensive-angle performance is that it will allow you to capture landscapes with greater clarity. Macro photography can be accomplished with a shooting distance of 0 centimeters.
The camera is capable of recording 4K videos at a frame rate of up to 30 frames per second. Under ideal circumstances, that should be the ultra-high-definition display. With the Digic 8 processor, you can even shoot time-lapse videos in 4K resolution. One of the significant enhancements is the addition of a new style setting option. You can choose from six different color settings to enhance and improve the efficacy of your treatment. Nothing can compete with your Canon Powershot SX70 if you have a high level of artistic ability and imagination.
Another significant plus point is the ability to shoot continuously at 10 frames per second, which we found to be nearly perfect. It appears to us to be a significant enhancement option for those who are interested in sports and wildlife photography. The Camera also comes with a useful Zoom Framing Assist feature, which would ideally make it one of the best features you would find on the Camera and one of the most impressive features you would find on any camera. When it comes to photographing a moving object with a zoom lens, this can be one of the most effective options available.
Even though the camera is classified as a bridge camera, it would give you access to an EOS camera due to the design of the camera. Consequently, if you want to avoid carrying around interchangeable EOS lenses, it would be one of the best options for you to choose from. The camera's user interface is far too similar to that of the EOS cameras.
Read Also: best vlogging camera with flip screen
Canon EOS M50 digital SLR camera- canon cameras with digic 8 processor
This was the first camera to use the new Digic 8 image processor, which was introduced with this model. The Camera, which was first introduced in February 2018, falls under the category of mirrorless cameras. In addition to the new generation processor, it provides you with access to the electronic viewfinder (EVF) and Vari-angle monitor, among other features. All of these features, when combined, will result in a significant improvement in the ability to capture images of exceptional quality.
The camera is capable of ISO speeds of up to 25600, with an extended range of ISO speeds of up to 51200 available as an option. Additionally, you can expect continuous shooting at up to 10 frames per second. Another significant plus is the availability of 4K video recording capabilities. The Canon EOS M50 is the first camera in the EOS M series to be equipped with 4K video recording capabilities. Additionally, the image stabilization system, as well as the Dual Pixel CMOS AF system, would have seen significant improvements as well. As a result, you would have access to a phase-difference detection automatic pilot with high speed and precision.
The Canon EOS M50 is canon cameras with digic 8 processor equipped with an APS-C-size CMOS sensor with 24.1 effective megapixels, which is a significant increase over the previous model. It is possible to shoot time-lapse videos in 4K resolution in addition to shooting 4K movies at 25 frames per second. Aside from that, the camera is capable of shooting in full HD at speeds of 100p and 120p.
The camera is equipped with an improved image stabilization system. When compared to the other EOS M series cameras, the 0.5 shutter speed is one of the camera's most impressive characteristics. The camera uses information from the CMOS sensor to detect motion, which is combined with information from the gyro sensor to provide the most effective and efficient image stabilisation.
You have access to a touchscreen LCD monitor with 1.04 million dots on a 3.0-inch screen. You would also have access to a 0.39-inch EVF with approximately 2.36 million dots, which is a good thing. In addition, the Dual Pixel CMOS AF system, which further improves the autofocus system, is accessible through the Camera's interface. You would have access to a greater number of AF points. On the supported lenses, you can earn up to 143 points, which is an increase from the starting point of 99 points. You will be able to take advantage of significantly improved performance when it comes to portrait photography. Because of the Digic 8 processor, the Eye Detection AF is yet another feature that is well worth having.
Read Also: best wired security camera system
The Canon EOS 90D is a- digic 8 processor camera.
The Canon EOS 90D Digital SLR Camera, yet another capable camera powered by the Digic 8 processor, is one of the best-ever options in the prosumer category, boasting several advanced features that set it apart from the competition. Some of the fantastic features provided by the platform include the built-in WiFi and Bluetooth, which allows for a more seamless connection experience.
The Canon EOS 90D canon cameras with digic 8 processor Digital SLR Camera should, in an ideal world, be the tool that allows you to explore a wide range of photographic possibilities. From high-speed sporting events to other everyday moments, the Camera with a 32.5 MP sensor is capable of meeting almost all of your requirements. Access to a very high degree of sharp and stunning features would be made available to you through this method. Another significant advantage that you should consider is the ability to shoot 4K videos in 30p, which you should find quite impressive in and of itself.
The availability of a 45-point all cross-type autofocus system should elevate it to the status of the highest-performing character in history. With the autofocus system on the Canon EOS 90D, you have access to a very high degree of precision when shooting videos, even in the most unexpected of circumstances. The ability to capture a fast-moving object with ease is what should ideally make it one of the best options for which you would want to use the EOS 90D. Continuous shooting at up to 10 frames per second is possible thanks to the high-speed continuous shooting feature. This can be an excellent option for live video shooting in order to increase efficiency in fast-paced situations.
Detecting and tracking faces should be made even easier with the Intelligent Tracking and Recognition system built into the camera. The camera also has Dual Pixel CMOS AF with Eye Detection AF, which is a nice addition. The Camera gives you access to autofocus that is both faster and more accurate. With a natural and expressive portrait, you would be able to gain access to a higher level of productivity.
If you have a camera with two multi-controller buttons, one of the excellent customization options you should be able to take advantage of is the multi-controller customization offered by the camera.
Canon EOS Rebel SL3 Digital Single Lens Reflex Camera
When it comes to long-term value, the Canon EOS Rebel SL3 DSLR Camera is one of the best options available because it provides you with access to a genuinely fantastic capability in terms of enhanced connectivity in the entry-level budget category of DSLR cameras. In the long run, the built-in WiFi connectivity can be considered to be a fantastic feature to have.
A DSLR camera, such as the Canon EOS Rebel SL3, should be able to meet the needs of virtually every user in the best possible way. The Nikon D3200 should be the first choice for those looking for entry-level DSLR cameras. It is one of the smallest and lightest DSLR cameras available, and it offers access to flawless 4K recording capabilities. The camera is equipped with features such as dual-pixel CMOS autofocus and a vari-angle LCD for improved efficiency and visibility. The 24.1 MP sensor should, in theory, be one of the greatest features ever created, one that you would consider to be truly powerful in its own right.
One of the best options available is the autofocus, which is both fast and accurate. The Eye detection autofocus feature is what distinguishes it as one of the best features for capturing a genuinely improved portrait with a high level of expression in a short period of time. When it comes to more straightforward composition and review of your images and videos, the touch screen LCD can be quite useful. The use of touch gestures makes interacting with the Camera a little more comfortable for the user.
In addition, but certainly not least, the Camera is equipped with a robust WiFi and Bluetooth connectivity system. As a result, the process of transferring your images would be quite straightforward. It would make it an excellent choice for sharing and uploading images because it would be able to do so relatively quickly.
The creative assist feature would be yet another innovative feature that would enhance the quality of the camera's output. You can, in fact, review the configuration options in real-time.
Canon EOS M6 Mark II DSLR – digic 8 image processor
This is one of the small and extraordinary cameras, and you would consider it to be one of the most useful features ever created by man. The camera is equipped with a 32.5 Megapixel CMOS image sensor. You can rest assured that your high-speed shooting efficiency will be improved and more efficient than ever.
The Touch & Drag AF and the optional EVF available on the Canon EOS M6 Mark II would be the features that would distinguish the camera as a formidable choice. A better degree of faster and more natural selection of the focus point will be achieved as a result of this. In addition, the Camera offers a high degree of high-speed continuous autofocus at a rate of 14 frames per second. This is yet another excellent option that would allow you to capture unpredictable moments with the perfect combination of incredible details using an electronic shutter system.
You would also discover canon cameras with digic 8 processor that the 30 frames per second RAW Burst Mode can provide you with access to an efficient AF tracking system. The 0.5 seconds pre-shooting option is yet another useful feature that will help you avoid missing the most perfect moment of your life at any time. Face Tracking and Eye AF are two excellent features that help you have a more enjoyable photography experience by providing you with reliable, fast, and accurate autofocus. It can be one of the best options for improving one's level of proficiency when dealing with more rapid action scenes.
Conclusions and Remarks
After all, those were just a few of the best options available for Canon cameras equipped with Digic 8. It is not intended to be an exhaustive list. However, you can rest assured that we have selected nearly all of the major camera options available from Canon.
Consider some of the best alternatives that we've outlined in this collection. We anticipate that you will be able to find the best possible options for nearly every type of photographer. You should find the right camera for you on this list, whether you are a beginner or a seasoned professional. There is something for everyone. Examine those alternatives and select the most appropriate one!
shh=