Concert photography is one of the few photographic genres where your equipment truly dictates your photographic success.
Here is our guide to some of the Best Lenses for Concert Photography Sony, which will help you put the pieces of the puzzle together to create incredible live music photos.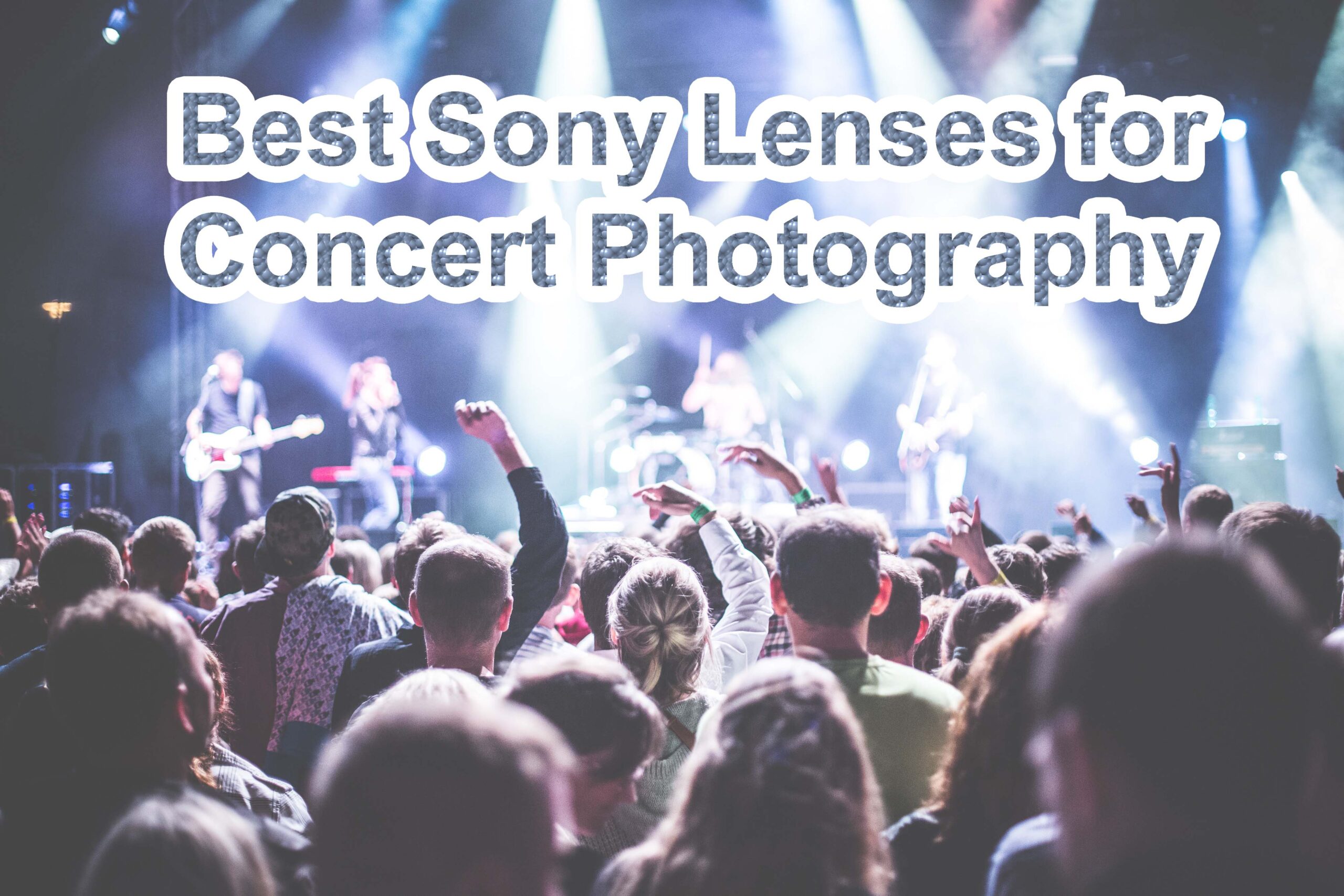 Getting up close and personal with a musician or band while photographing a concert or live show may be an exciting job. Concert photography is all about timing, skill, and a little bit of ingenuity to obtain the ideal shot while feeding off the enthusiasm of the audience. Maybe you're a music fan trying to get into concert photography, or maybe you're a seasoned shooter looking to broaden your horizons.
Concert and music photography, in most cases, combine the fast-paced action of sports coverage with the low-light challenges of night photography. To shoot great and properly exposed concert photos, you'll need a dependable camera that can easily handle low-light situations, as well as a fast lens that performs well even in low light.
What Characteristics Should I Look for in a Good Lenses for Concert Photography Sony?
A lens with a wide maximum aperture, fast and dynamic focus options, a long reach, and built-in image stabilization is ideal for concert photography. These characteristics are absolutely necessary in a good concert lens because they address the common issues you'd encounter when shooting live musical performances: low lighting, constantly moving musicians, and a crowd of jumping and dancing people who don't care if you get your shot or not.
10 Best Lenses for Concert Photography
Let's move on to lens recommendations now that we've discussed the most desirable lens features for concert photography (along with some cheaper alternatives to the pricier, high-end lenses).
Sony 55-210mm f/4.5-6.3 OSS E-Mount NEX
If you're looking for an affordable lens This Sony lens is built with superior glass to help you capture clean, blur-free images even at its longest zoom.  that renders vivid, sharp, and life-like concert pictures, this Sony lens is for you.
Sony E 55-210mm F/4.5-6.3 OSS Spec
| | |
| --- | --- |
| Focal Length | 55 to 210mm (35mm Equivalent Focal Length: 82.5 to 315mm) |
| Maximum Aperture | f/4.5 to 6.3 |
| Minimum Aperture | f/22 to 32 |
| Lens Mount | Sony E |
| Lens Format Coverage | APS-C |
| Angle of View | 29° to 7° 40′ |
| Minimum Focus Distance | 3.28′ / 1 m |
| Maximum Magnification | 0.23x |
| Optical Design | 13 Elements in 9 Groups |
| Diaphragm Blades | 7, Rounded |
| Focus Type | Autofocus |
| Image Stabilization | Yes |
| Filter Size | 49 mm (Front) |
| Dimensions (ø x L) | 2.51 x 4.25″ / 63.8 x 108 mm |
| Length at Maximum Extension | 6″ / 152.5 mm |
| Weight | 12.17 oz / 345 g |
The Sony 55-210mm lens, like all superzoom lenses, is quite large.
It's a little bigger than most other APS-C lenses, measuring roughly 4.25in (10.8cm) in length and weighing about 12oz (345g).
It feels a little front-heavy and awkward when mounted on my a6k. However, that is to be expected from a lens of this size.
Sony E lenses are known for their high build quality, and the 55-210mm OSS is no exception. Surprisingly, Sony used mag-alloy for the lens body, which is unheard of in this lens and price class. The rubberized focus and zoom control rings are extremely smooth to use. However, the inner lens tube (made of plastic) wobbles slightly. It extends when zooming towards the long end of the zoom range, as is typical for such lenses. Because the front element does not rotate, polarizers can still be used. The lens is certainly compact when compared to similar DSLR lenses, but it appears to be quite long when mounted to the diminutive NEX cameras, especially when extended to its maximum focal length and with the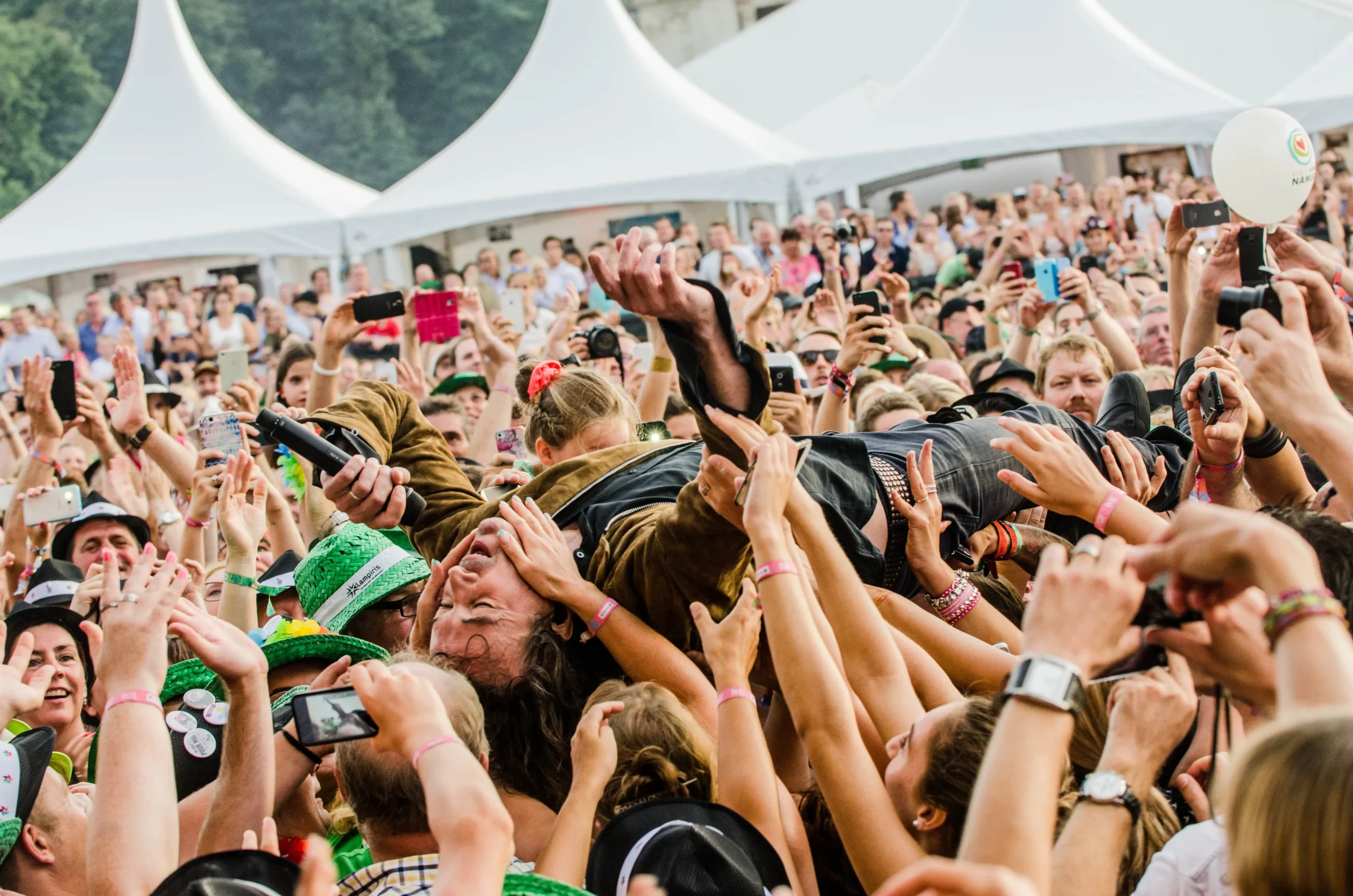 Why this is good lens for concert photography:
In a crowd, most long zoom lenses are difficult to maneuver. This lens not only has a good focal length range, but it also doesn't get longer as you zoom in. That means you won't have to worry about getting in the way of other concertgoers or having random concertgoers bump into your lens.
Sony 24-70mm F/2.8 G-Master
Sony's G-Master lenses are the company's top-tier offerings for Alpha mirrorless systems, aiming to combine quality, style, and durability in a single package. So, when the Sony 24-70mm F/2.8 G-Master was announced and later released, there was a lot of excitement in the music photography community.
Sony FE 24-70mm F/2.8 GM Specs
| | |
| --- | --- |
| Focal Length | 24 to 70mm |
| Maximum Aperture | f/2.8 |
| Minimum Aperture | f/22 |
| Lens Mount | Sony E |
| Lens Format Coverage | Full-Frame |
| Angle of View | 84° to 34° |
| Minimum Focus Distance | 1.2′ / 38 cm |
| Maximum Magnification | 0.24x |
| Optical Design | 18 Elements in 13 Groups |
| Diaphragm Blades | 9, Rounded |
| Focus Type | Autofocus |
| Image Stabilization | No |
| Filter Size | 82 mm (Front) |
| Dimensions (ø x L) | 3.4 x 5.4″ / 87.6 x 136 mm |
| Length at Maximum Extension | 6.6″ / 167 mm |
| Weight | 1.9 lb / 886 g |
Fast Focusing and Reliable Performance
Drive Direct The Super Sonic wave AF motor and internal focus mechanism enable quick, quiet, and precise autofocus performance, as well as more natural, intuitive manual focus control.
On the lens barrel, there is a focus hold button and an AF/MF switch for intuitive tactile control and quick access to select settings.
On the lens barrel, there is a focus hold button and an AF/MF switch for intuitive tactile control and quick access to select settings.
A dust- and moisture-sealed design improves working conditions in inclement weather, and rubberized control rings improve handling in colder temperatures.
Best Lens for Stage Photography
Sony 35mm F/1.4 G-Master
The Sony 35mm f/1.4 GM is a relatively simple lens to use. It's light enough to be carried around for extended periods of time. This implies it will not be a strain for extended occasions such as weddings. The lens has no built-in stabilization. Nonetheless, I was able to handhold down to 1/4s with the Sony a7R IV's IBIS.
Sony FE 35mm F/1.4 GM Specs
| | |
| --- | --- |
| Focal Length | 35mm |
| Maximum Aperture | f/1.4 |
| Minimum Aperture | f/16 |
| Lens Mount | Sony E |
| Lens Format Coverage | Full-Frame |
| Angle of View | 63° |
| Minimum Focus Distance | 9.8″ / 25 cm |
| Maximum Magnification | 0.26x |
| Optical Design | 14 Elements in 10 Groups |
| Diaphragm Blades | 11, Rounded |
| Focus Type | Autofocus |
| Image Stabilization | No |
| Filter Size | 67 mm (Front) |
| Dimensions (ø x L) | 3 x 3.8″ / 76 x 96 mm |
| Weight | 1.2 lb / 524 g |
The manual focus ring moves smoothly. The aperture ring is also quite nice. The ring isn't too stiff to turn, but it's also not too loose to be easily knocked out of place. It clicks nicely into place. Of course, you can unclick the aperture ring. Videographers will love this.
The Sony 35mm f/1.4 GM is a joy to use in general. If the concept of an aperture ring bothers you, you can set it to A and control the aperture with the camera body. This lens is completely plug-and-play.
In all lighting conditions, the Sony 35mm f/1.4 GM is highly fast and accurate. The lens is quick and silent while in single focus. When utilized in continuous autofocus, the 35mm f/1.4 GM performs admirably in wide, zone, and tracking modes. I had no trouble photographing both fixed and moving subjects. As you might expect, the lens works well with Sony's Real-Time eye tracking. Overall, the autofocus performance will be flawless.
Read Also: How to Start a Photography Business with no Experience – Detail Guide 2023
Sony FE 24-70mm f/2.8 GM
Lens type
Zoom lens
Focal length
24–70 

mm

Image stab.
No
Lens mount
Sony FE
Max aperture
F2.8
Min aperture
F22
Min focus
0.38 

m

 (14.96

″

)
Max magnification
0.24

×

Weight
886 

g

 (1.95 

lb

)
Length
136 

mm

 (5.35

″

)
The 24-70mm F2.8 GM is constructed with three aspherical elements, including a newly developed, extremely precise XA (extreme aspherical) element that reduces aberration and delivers the ultimate resolution across the entire zoom and aperture range, as well as from corner to corner of all image files. Furthermore, an ED (Extra-low-Dispersion) glass element and a Super ED glass element minimize chromatic aberration while maximizing resolution and bokeh with no unnatural coloration.
The lens has a 9-bladed aperture that maintains a near circular shape at all settings and is coated with Sony's proprietary Nano AR coating to reduce reflections and ensure exceptional contrast and clarity.
The new FE24-70mm F2.8 GM lens features a direct drive SSM (Super Sonic Wave Motor) focusing system that is extremely efficient thanks to a new set of algorithms that positions the lens elements quickly and accurately. The motor is smooth and quiet, making it an excellent choice for both still images and video.
Lens type
Zoom lens
Max Format size
35mm FF
Focal length
20–70 

mm

Image stabilization
No
Lens mount
Sony E, Sony FE
Aperture
Maximum aperture
F4
Minimum aperture
F22
Aperture ring
Yes
Number of diaphragm blades
9
Aperture notes
Rounded blades
Optics
Elements
16
Groups
13
Special elements / coatings
2 advanced aspherical, 3 ED, 1 ED Aspherical, 1 Aspherical
Focus
Autofocus
Yes
Motor type
Linear Motor
Full time manual
No
Focus method
Internal
Distance scale
No
DoF scale
No
The Sony FE 20-70mm f4 G is a zoom lens designed for Sony mirrorless cameras. It was announced in January 2023 and expands the range from typical 24-70 models, making it more appealing to vloggers and anyone who wants to capture large views.
It's not the first general-purpose zoom to reach 20mm at the wide end; Panasonic released a 20-60 kit zoom almost three years ago, though only for L-mount cameras. However, Tamron will release a 20-40mm for the Sony mount with a bright f2.8 aperture at a lower price near the end of 2022. However, the Tamron is primarily a wide zoom, focusing on focal lengths shorter than standard, and thus serves as a supplement to, say, a 16-35 rather than a true general-purpose lens.
In comparison, Sony's 20-70mm lens is a stop slower and more expensive, but it reaches nearly twice as far at the long end, making it more of a general-purpose lens. It's ideal for both urban and natural landscapes, as well as people, whether you're using the wide-end for handheld vlogging or the long-end for portraits or presentations with shallow depth of field effects. I'll show you everything it can do in my video review below, but if you prefer to read the written highlights, keep scrolling!
Best Lenses for Concert Photography Sony
Concert photographers will be able to capture images from all regions of the venues, including the pit, the nosebleeds, and the rear of the audience. The 70-200mm lens enables them to focus on the artist and isolate them from their surrounds. Capturing the delicate details of a concert, the genuine intimate moment an artist is in their element, and more – the 70-200mm lens will let you to reach in and capture it! Because of its f/2.8 aperture, it has a fantastic depth of field and
How take Photo in Concert?
If you're new to concert photography, there are a few things you should keep in mind. These tips will help you capture beautiful and memorable concert photos, from the best gear to the best camera settings. And with a little planning and practice, you should be able to master concert photography in no time.
Primes vs Zooms which lens best for concert?
The age-old debate between prime and zoom lenses. The answer to this question varies depending on the type of event covered by concert photographers. For my work, which primarily involves photographing larger venues (such as theater shows and similar events), I prefer f/2.8 zooms. The reason is simple: the flexibility provided by zoom lenses is essential for covering events such as live music, where one's position is frequently severely restricted.
If you're shooting press and only have access to the photo pit, a zoom will allow you to vary your compositions and create compelling images the most. If you're photographing smaller shows without a photo pit, where you might be covering from a fixed position in the crowd or otherwise have limited mobility, the ability to easily vary your frame will be an even bigger help.
If beginners, start practicing in local shows
You may be familiar with your camera equipment at home, in the park, or in the city, but the environmental conditions you'll encounter with concert photography can present a significant learning curve. You'll have to deal with a slew of different elements, including crowded rooms, contrast lighting, haze, and moving subjects.
Starting with small, local concerts and events allows you to practice your camera settings, composition, and ability to work effectively with available lighting in a low-pressure environment.
Another factor to consider is that most large events prohibit the use of camera equipment unless you have a press pass. Smaller events and venues are more likely to be open to the idea of exchanging access for photographs. To gain access, contact venue managers and small band promoters.
Camera Settings for concert Photography
While Auto White Balance is appealing, colored concert lighting changes frequently, and your images will require extensive post-processing adjustments. Set a single white balance based on the stage's colorless lighting.
Spot metering is useful for ensuring that your subject's highlights aren't blown out. Because stage lights are so bright and contrasty, it is preferable to underexpose rather than overexpose.
Shoot as wide open as possible with the fastest shutter speed possible. A higher ISO will often give you more control to achieve your creative goals.
Visit bestoflens.com for more informations
Conclusion
If you only have one lens for music photography, I would recommend a 24-70mm f/2.8 lens over all others. It has the best combination of speed, range, and quality, and every manufacturer produces a professional lens with this specification. Other lenses or slower zooms will suffice, but for most professional event photographers, a constant aperture zoom like the 24-70mm is essential.
I'd then get a 70-200mm f/2.8 lens. Most shooters can get by with just these two lenses, and they will suffice for any medium to large-scale venue, with the exception of soundboard shoots. As a music photographer, you can cover almost anything with a midrange zoom and 70-200mm lens.
Aside from that, it's all about specialty lenses like ultra-wide, fisheye, and super telephoto. These are the "nice to have" accessories. While they are not strictly necessary, they can help you create images that will help you stand out.